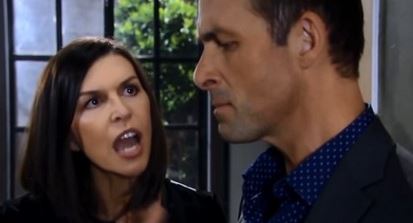 General Hospital fans know that Anna is not working well with Valentin. They've had their moments in the past, but he continues to lie to her and she continues to find him one of the least trustworthy people she's ever met. He's busy trying to deal with his wife and her loss of her brother, Nathan, and he's going to use this as an opportunity to sneak around and speak to Anna behind her back. Nina is so distraught she's been working so hard on focusing on her brother's death, and he's using that to his advantage.
What's going to do when he speaks to Anna is give her information that will do nothing less than shock her into pieces. She's not expecting what he is going to giver her, and this means that something is about to go down that she probably doesn't see going down. She's been fighting this man for information for weeks now, and he's finally opening up.
And she's just going to be shocked. He will tell her he knew about her son with Faison. He will also tell her that he knows a lot more, and she will want to know more. He has some information she doesn't have, and he's going to use it to make her stick around and listen to him tell her that all this is her fault for hiding this boy from his evil father. She won't want to hear it, but she needs to know the truth.