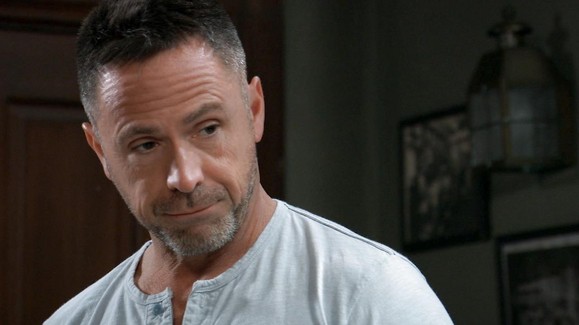 General Hospital fans are happy for once. Not that things are going at all well for anyone, but we are happy that there a few things going on right now that do give us some life. You can tell we've all been quarantined a few weeks now because we are all looking for even the smallest and most minute good in every single day. It's working for us, though, and we like it a lot. For one, we are happy to see that Nina is able to spend some quality time with Charlotte. She might not be the mother of this little girl, but she has been her stepmother, and she has been the kind of woman who has been a constant in the little girl's life. They do love and respect one another, and this is all that we can ask. Their time together is precious, and we are glad they get that during this time.
On the other hand, we are also happy to see that there is a little bit of a soft side in Brando. He's a man who is nothing if not strong and capable, but he's also got a soft side. He's chosen to show that to Carly, and who can blame him? He's got so much going on in his life right now, and it only makes sense that he would be able to do this and to make it work for himself. He's showing her, she's changing her mind about it, and she's doing that a little at a time. On the other hand, we also know that Trina is angered. She's got a hot temper right now, but she's young and confused, and that makes things a little bit interesting for her. She's not going to be okay.
What's Happening on General Hospital
'General Hospital' To Air Repeat Episode Once A Week Through May 22 Amid Coronavirus Production Shutdown https://t.co/5vHiFZw59R pic.twitter.com/bY8TWLsYTX

— Deadline Hollywood (@DEADLINE) March 31, 2020
This is good to know.
What's Next on General Hospital
"This is hell… I can't do it." #GH pic.twitter.com/ahlAvVIP20

— General Hospital (@GeneralHospital) March 30, 2020
Laura has had a tough year. She's been working so hard on things that are out of her control. She hasn't had much luck in her personal life, in her marriage, in her feelings, or with the son who did come back from the dead even though she didn't think that would ever happen. Right now, she's making some big changes in her life that will be beneficial — we hope. She's decided to share with Robert that she has a few plans that are all her own, and he might just support her and ask her for the help she needs to get through these tough times in her life. Jason and Sam are not supposed to spend any time together, but that is not about to stop him from giving her a warning.
It's a stern one, too. She's looking to do some things that might not work in some capacity, and he knows that it might just make things work. She probably won't listen, of course. But, there's the fact that at least he did try. Molly is going to reach out to Brando, and she's going to ask for help with that one. They know that there is a lot that might go wrong here, but she has to find out if he can help her do what she needs to do. He's not the only one helping, either, but she needs all the help she can get, and she's not afraid to drag as many people into this as she can. It's going to be a situation that we don't fully understand.
Stay tuned for more General Hospital and be sure to check out TVOvermind daily for the latest General Hospital spoilers, news, and updates.