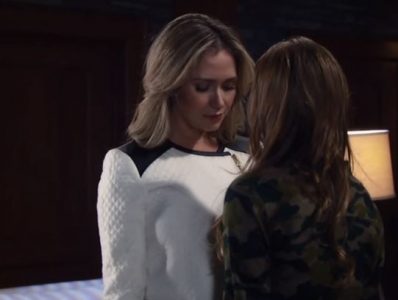 It's always interesting in Port Charles and on General Hospital. Honestly, if people could mind their own business for five minutes, most all the things that go wrong here could be easily avoided. Lives could be saved, relationships might actually have a chance of success and people might live happier lives. However, that's no fun. We prefer to see people doing the wrong thing, making mistakes and not making good decisions. It's so much more fun that way. Now we get to see that Finn is about to suffer big time. He is being confronted by Sonny to do something that he doesn't want to do. In true Sonny fashion, however, Finn has very little room to say no, and he finally breaks down and agrees to do what Sonny wants. He's not happy about it, but most people can't get away with saying no to Sonny.
Elizabeth is making Franco angry. He wants to give her something and she is just not interested. She wants nothing to do with him, they're butting heads and we aren't sure that Franco is in a good enough place to be able to handle her rejection in an appropriate manner. What might happen to him is beyond us, but we do think that there could be some issues in the near future. She's got to watch her back now because he's slowly going to become more and more obsessed with her, and we know what happens when people are obsessed.
Additionally, we know that Carly is on a mission. She's got to find the person who donated a kidney to Josslyn, but she is not having much luck. Will her luck change now that she's made her mission so clear? We really have no idea, but we do have some hope that she can work it out and find out all that she needs to know. Even if we do suspect that she has some ulterior motives for trying to find this person that we might not know about at this point in time. Time will tell, as it always does in these situations.