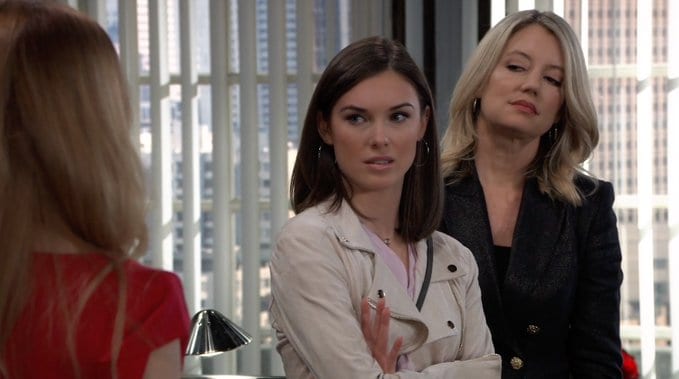 General Hospital fans were really excited to see all that this episode meant to the world. For one, we didn't know that Carly had so many things happen to her. It's easy for us to assume we've seen it all and been there for all of it on the television, but she is a person whose entire life has not made it onto the show. We got to see a lot of her best times, her worst times, and some stories that serve to remind us that she is a person with feelings and things in her life that mean something to her. She's got a long list of people in her world who are good to go, and she's not going to deal with that well if she cannot get Nelle out of her life and the life of her son. For now, though, she's someone we are fascinated by even more now.
She's a woman who has so much going on in her world. She has so many things to live for, so many things to do in her life, and so many things that are going to work for her. She's got more stories than we thought she had, and they are lending a lot to us in terms of what we can see is her life and how it will go for her. But, for now, we have some answers we did not see, we have some surprising things we did not see happening, and we have a few things going on that we did not know we could have. It's all so good for so many people, but it's even better now than it was. We love her, and we loved this episode all about her and the woman she is right now. She's so good.
What's Happening on General Hospital
The song at the end of #GeneralHospital on 4/6 was @MadisonMaloneM DECEPTIONS, available on iTunes https://t.co/O7R6BtJo2l

— Paul S. Glass (@GHmusicPG) April 7, 2020
Did you guys listen?
What's Next on General Hospital
WATCH: TJ holds onto hope for a future with Molly as her night with Brando burns a hole in her conscience. @haleypullos @TajhBellow #GH pic.twitter.com/xfNuavMPVA

— General Hospital (@GeneralHospital) April 8, 2020
Peter really is not our favorite. He's not even close to our favorite. He's not even someone we like that much at all. He was someone we thought was going to turn out all right as things unfolded during the time he came here the first time, but he has not managed to redeem himself in our eyes in the very least. He's a mess, and now he's mad that Robert is not doing much in his own life. He needs Robert to find something to distract him and leave him alone in life, otherwise he's going to have to figure that out for himself. This is not a situation anyone can deal with on their own, but we also don't know how to focus on any of that. For now, though, we think we need to just sit back and focus on something else.
Dr. Obrecht is going to find she has a visitor, and we can assume it's not someone we want to see in her home or her office. She is nothing if not a total mess, and we get that. But, for now, things are just what they are. She knows that her life is a mess, and she's not sure how to fix that. Jax is going to surprise Nina, and that's good. She needs something distracting and good in her life, and this is a thing that works for her. She's enjoying this, and we like it. She needs it, and we hope she rolls with it and lets herself enjoy this.
Stay tuned for more General Hospital and be sure to check out TVOvermind daily for the latest General Hospital spoilers, news, and updates.
Tell us what's wrong with this post? How could we improve it? :)
Let us improve this post!