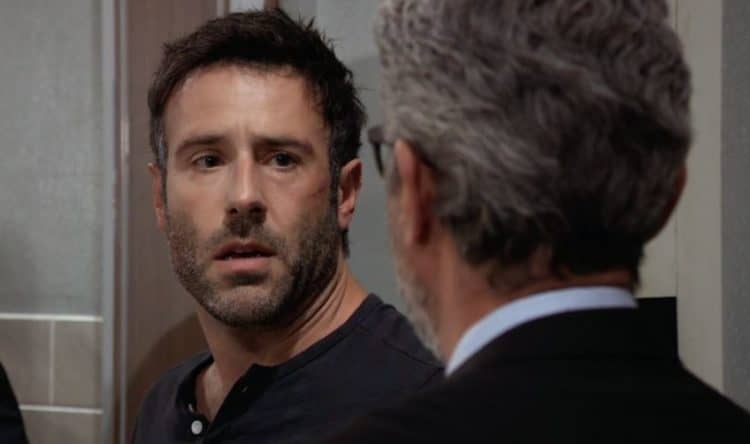 General Hospital fans aren't sure what to expect now that things are taking such an interesting turn, but we can see that some things might just make more sense than others. Shiloh has been arrested, and we all know that this happened before he had a chance to open up the results of the DNA test for his son. We all know that this is going to be a huge then when it finally happens, but it will not happen soon if his arrest has anything to do with it. There's so much history here, and there might just be an answer here that everyone is looking for, especially when that test leads to the fact that Willow is not the mother of this baby. She has no idea her baby is dead and that this baby was switched for Michael's living baby. He doesn't know, either. In fact, only one person knows this, and that person is one of his fathers. This might be one of the most horrible things to happen.
But, Lulu is looking for help, and we saw her go to Sonny. He's not sure he can help her, though. He knows that Dante has gone through something awful, and that he left for a reason. If his very reasonable and wise son left because he felt he was a danger to his own family, then he is probably a danger to his own family. He's not someone who can easily get out of what is going on in his life, and Sonny might not want to go this route and disrespect Dante's wishes even if those do make Lulu happy. We know she will not take kindly to hearing this if that is what he has to say. She was sure he would help.
What's Happening on General Hospital
https://twitter.com/GeneralHospital/status/1150417702952919041?ref_src=twsrc%5Etfw
We think this photo is a birthday wish in and of itself.
What's Next on General Hospital
"What if… perhaps [Shiloh] isn't [Wiley's father]?" #GH pic.twitter.com/IblBL2zBTn

— General Hospital (@GeneralHospital) July 15, 2019
Lulu is not a happy camper right now, and we suspect this has a lot more to do with her husband's father than her husband and his disappearance. She wants to find him and love him again, and that is not going to go well for her. She's currently finding that most people are in the mood to stop her from doing anything and everything in her own power to make this stop, and she's not going to get her way with this. She's struggling, and we get that. We get that she's got a lot on her mind, and she's got a lot on her plate. She's not someone who will ever change the way the game is played, and we get that. We get that she's got issues and problems, and we get that she will have to find a way to make peace with that. But, she's not going to have a chance right this second.
Kim and Julian will finally sit down to talk. He's shocked at what he caught her in the middle of, but he understands she is not herself after the loss of her son. She's not her right frame of mind kind of woman right now, and we get that. But, she's also not someone who will have much effort to make in her own life. She's going to be honest with him about her feelings for him and her feelings for Drew, and he might just be honest with her about his lack of desire to be with her. It will be a good talk, but it won't be a happy one if we can predict that.
Stay tuned for more General Hospital and be sure to check out TVOvermind daily for the latest General Hospital spoilers, news, and updates.
Tell us what's wrong with this post? How could we improve it? :)
Let us improve this post!