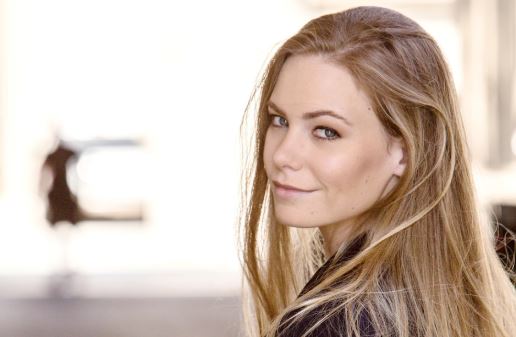 General Hospital fans are watching a lot of Nelle lately. She's managed to achieve all she wanted to achieve. She got pregnant, she got her man to propose to her, and she got her man's mother locked up in an institution for being crazy with an elaborate plan she created to get this to happen. But she's a bad person, and many people don't like Nelle. In fact, most of us want to see her fail, and that makes us wonder if Chloe Lanier, the woman behind Nelle, is anything like her character. We dug up a few fun facts about her, and we are happy to report she seems much more likable than her awful character.
1. She's a Texas Girl
Texas girls do it better, or so we've heard. She's a Dallas native. She was born there, she was raised there, and she's currently living in LA. She works there, so it makes sense she would live there, too, right?
2. She's a 90s Baby
Chloe Lanier is just as young as she looks. Actually, we think she looks a little younger than she is, but that's beside the point. She was born in 1992. She's still a virtual baby in the world of acting, and she has a long way to go to make her career really take off.
3. She's Been Acting Since She Was 15
Her first role was given to her when she wasn't even old enough to drive. She was in a movie called "The Effects of Tragedy," and she did a good job. It was 2009 at the time, and this role led her to one that she took three years later as a recurring character on a very popular hit show that would change her life forever. It was also one we just loved.
4. She's Been on GH as Another Character
If you are a GH fan, and you thought she looked familiar, you are correct. Before she showed up as Nelle to change the lives of the Corinthos' family forever, she was another character. She was a very young Patricia Spencer in two episodes back in 2015. That was a full year before her role as Nelle.
5. She Wasn't Going to be Nelle
When the role of Nelle was created, it wasn't going to Chloe Lanier. She was busy with another show at the moment, even though GH wanted her for the role. She didn't have the time to do the work, though, so they began looking at other actresses. They just couldn't find anyone else to do the job so well.
6. Her Co-Stars Fought for Her
Her friends Laura Wright and Frank Valentini, however, were adamant that they needed her to play Chloe, and they fought hard for her. They didn't want to work with anyone else, and they petitioned their writers and directors and everyone else to hold out for her. They wanted Lanier in this role, badly.
7. Nelle's Storyline Was on Hold for Her
So, the show listened. They didn't write the storyline right away. They held onto the Nelle story for a few months until Lanier was free to show up and be Nelle. And they probably did the right thing. She's so good at being Nelle that we all really do hate her. She's outstanding.
8. She's Good Friends with Laura Wright
She might be doing everything she can as Nelle to get Wright, who plays Carly, to go away forever, but they are such good friends when they are outside of work. They were actually even friends before she was Nelle. She has some good friends fighting for her on the show.
9. She's an Award Winner
She may have only been here since 2016, but she's so good at her role. She earned not only an Emmy nomination for her time as Nelle, but she also won. She was nominated and lost in 2017, but she took home the win in 2018. It's amazing.
10. She's Had Awesome Roles
Remember a little earlier when we said she had some cool roles in 2012 that would change her career? Well, that recurring role was on everyone's favorite show, "Army Wives," as Penny. She was there to make her name, and she did a stellar job.
Tell us what's wrong with this post? How could we improve it? :)
Let us improve this post!