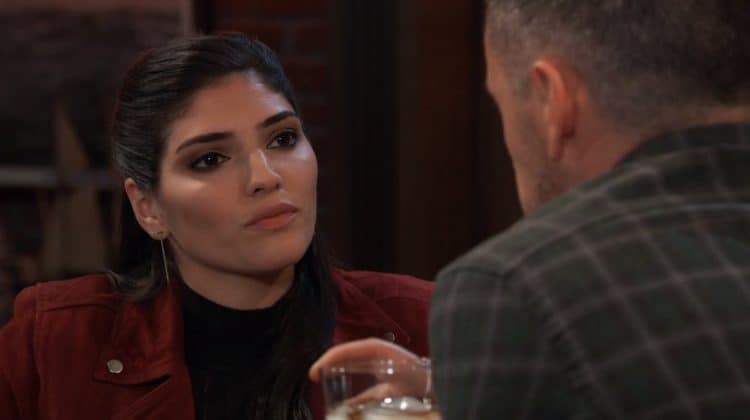 General Hospital fans know that Nina has been through a lot lately. She is the one who was getting ready to walk down the aisle when Jax told her not to. He didn't tell her why, but he did encourage her to reconsider her idea of marrying the awful Valentin because he did know that Valentin paid Sasha to pretend to be her daughter even though she is not. They all knew this, but Nina did not know this. It's been an ugly situation. She ran out on her own wedding, she lost her mind, and nothing helped her other than being with Jax when he opened his doors for her. She's not the kind of girl who will do anything halfway, though, and this is more evident now that ever before. He had to talk to her, and by talk we mean we did see him confront her.
She's got options, and she's thinking about going back to Valentin. She misses the little girl that he has and to whom she got to be a second mother. She misses little Charlotte, and she also knows this sweet baby girl has been through so much in her little life, and she wants to be there. She is willing to go back to Valentin for this, and Jax is finding out that she's thinking about this, and we can tell that he is anything but happy in the moment. He's quite angry, and things are not working out for him the way that he had originally planned. His confrontation probably also won't work, either. Then there is Chase, who is not happy with Finn. Though, we can admit that very few people in the world seem happy with Finn right now. We can't help that, though. He's got his own mess to clean up.
What's Happening on General Hospital
Hayden moves into a "new" place and runs into the old tenant! @RebeccaBudig @GeneralHospital #GH

— Frank Valentini (@valentinifrank) November 19, 2019
This should be interesting.
What's Next on General Hospital
"The clock's ticking… it's going to get unpleasant." #GH pic.twitter.com/8OCH3tK2Ke

— General Hospital (@GeneralHospital) November 18, 2019
Nina is not going to do what Jax asked her to do. She's decided that what she wants is a lot more important to her than what she does not want, and she is headed back to Valentin. She wants to be with Charlotte, and this is the only way she can do that right now. She's not ashamed of her choice, but she has to answer to those around her if she allows them to get to her. We think she can do better than that, but we aren't sure she knows she can do better than that. For now, we think that she's got a mess to clean up, and that she's got some news to handle on her own. She can do this, but at what cost to her in her life?
Sonny is not happy right now, and he is thinking that there might be some things going on that he cannot trust. He's suspicious, and we don't know what he might do with those feelings. He's trying to stay out of things that aren't his problem, but they do involve so many of the people he loves the most, so this might not be good for him. We wish he'd stay home and focus on his baby and his wife and the things that are good in his life, but we get tha the cannot let go of some things no matter how much he needs to or tries to. This might not end well, but perhaps he can find a way to learn the truth about all that is happening.
Stay tuned for more General Hospital and be sure to check out TVOvermind daily for the latest General Hospital spoilers, news, and updates.