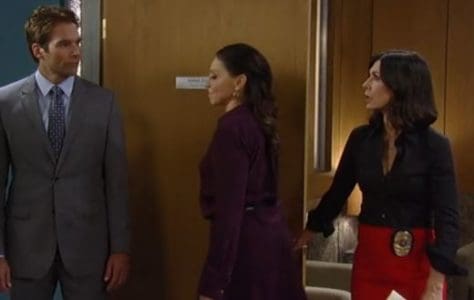 General Hospital spoilers tell us Alex is not gone from the picture just yet. Anna is back and has resumed her regularly scheduled role as herself, but her twin sister is still on the loose. She's working with Faison, and she has plans to make her way into the ball. Is she there to cause problems, or is she there to help keep the issue contained? We don't know for certain what she want, but we do know that Faison is rumored to want the Chimera Project toxin for himself, which means he doesn't want it let loose on all the people of Port Charles. If they only knew it was little Jake Webber with it in his possession.
When Anna and Nathan handed Alex over to the WSB agents when they caught her, they were sure she's no longer a problem. Either someone got her out or they were wrong about the agents, because she's free and she's making trouble for Anna yet again. The Cassadine's have power everywhere in this agency, and it looks as though they've proven that this time around. Valentin is still struggling to come around to Anna's story about an evil twin taking over, but he will soon realize she wasn't making this up.
As soon as Valentin realizes that Anna is telling the truth upon meeting Alex, he will take her side and begin helping her at the ball. The problem now is that he just made this grand gesture to Nina about how he loves her and wants to stay married, and now he's changing his entire tune to help Anna. She doesn't get it, and we think Valentin might just make his final decision in this moment.