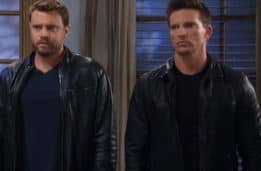 General Hospital fans want to know what they have to do to get two men to fall so head over heels in love with them. What's the situation in which we can all find that two brothers — both handsome twins no less — both fall for us at the same time and do whatever they can to protect us and make us happy and love us endlessly? It's a nice situation for Sam to be in despite the feelings she's having and the trouble she's going through, but it does appear to be a bit of a first world problem.
You have gentle Jason. He's so sweet and kind to her, always putting her happiness above his own. He will do anything and everything to make her happy, and that means putting his own needs and wants long before his own even if that hurts him. And it's not something that he can change. And then there is Drew, who is always fighting so hard to keep her in his life.
He's not willing to put her needs first in any other way than that of his own. He wants them together, and he will do anything and everything he can to ensure this works for him and that they are together until the end of time. He's not giving up, but he's also not trying to put her feelings before his own in this situation. He's a fighter, and his brother is a giver. Which do you choose here?