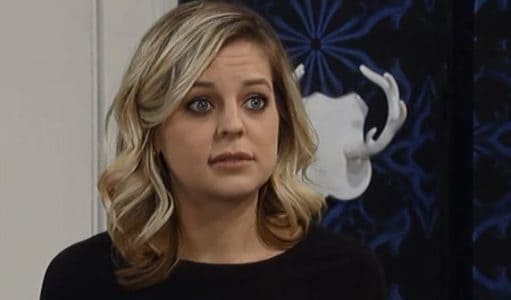 General Hospital spoilers tells us that Maxie is not happy with the relationship that Amy and Nathan have. She's going to catch them chatting with one another and have a real problem with the situation. She's not someone who can easily fall back on what she knows is okay without actually taking the time to look at what her gut is telling her. She feels there is something wrong in this situation, and she's not wrong. She's going to try to listen to them and figure out what is going on — she knows it's something.
But they won't tell her what is going on. She knows they are working together to do something, and we have a feeling it's nothing she's going to care about. But what really does make her feel horrible is the fact that her husband is spending so much time with another woman she dislikes, and he's keeping secrets with another woman from her. It's not a good look for any of them.
But what happens next? Do they really want to leave her out of what they are doing? She feels left out and unhappy, and they keep lying to her using a cover story. It's not good for your marriage when you can't even tell your spouse the truth, and we can't help but figure out what is going to happen here is not going to be anything good. But we will see in the next few weeks as it all unfolds.