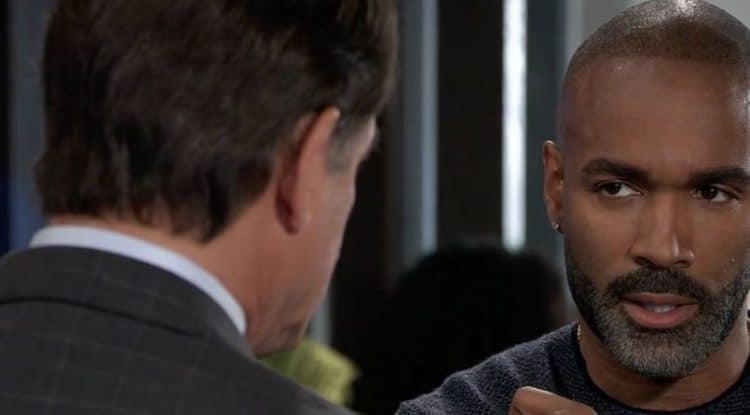 General Hospital fans know that Drew is not into Kim the way she is into him. She's doing all she can to remind him of their past, but he simply doesn't know what happened to him before he was Jason for so long. He didn't even know he wasn't Jason until Jason came back and the entire situation was revealed to him, and things aren't working out for him in terms of his memory and who he is. But for now, he's going to tell Kim repeatedly that she needs to spend her time with Julian. He likes the man, and he knows he's a good guy deep down. He might be a Jerome, and they have some bad ways about them, but he's not going to hurt her. She will, however, spend as much time as she can with Drew trying to help him remember who she is and what she is up to. And she wants him, badly. And he can't stop her.
He's been confiding his personal feelings to Curtis, who happen to be his closest friend at the moment. And that's something that might be very interesting in the near future. For now, however, we also need to focus on the fact that Lucy is back in town, and no one can figure out what she is doing there and why she is back. She's not entirely open to what is going on with the people she knows and loves, but she's entirely open to the fact that she has so much in her mind that will work for her and their families. She's going to make a splash, but we aren't sure yet when, where, or even how she plans on doing that in her life. She's a woman with a vengeance to fulfil, and it's good times.
What's Happening on General Hospital
#BehindTheScenes: On-screen drama gives way to smiles in between takes. @MaxGail #VerneeWatson #JanetHubert #NigelGibbs #GH55 pic.twitter.com/AfJipWb6rp

— General Hospital (@GeneralHospital) January 2, 2019
We aren't sure there is a way you could love this more than we love this, but these behind-the-scenes situations are just everything to us. We love it. We adore it. We want more of it.
What's Next on General Hospital
"Hope to see you again soon." #GH55 pic.twitter.com/sOt07b346d

— General Hospital (@GeneralHospital) January 2, 2019
Jordan needs her husband to help her, and she's not sure she will get the kind of help that she needs. He's still upset with her and her obsession of what's going on in the world. She's looking to find out who killed Kiki, and she's not letting it go. She shouldn't, as a law enforcement officer, but it's obvious she's entirely too invested in what is going on in their lives. She's having a rough time of it, and she's not going to stop until she gets what she wants and moves on with her life. She's a wreck, and she's got to get her life together. We can't help but think she's making some big mistakes. The rest of the week also includes Lulu hosting an event.
She's looking to find some answers and do some things, and this might just be one of those things and one of those events that makes it her way. She might not get what she wants tonight, but she might just get what she wants in less time than she can imagine. Laura is going to feel good about life again when she finds out her husband is there to support her and what she is doing. She's touched that she is able to find that kind of help in him after all that, and there is nothing that will make her happier than finding out that he is there to be with her. He knows, of course, that what's going on is up to him at this point. It's his situation to fix.
Stay tuned for more General Hospital and be sure to check out TVOvermind daily for the latest General Hospital spoilers, news, and updates.