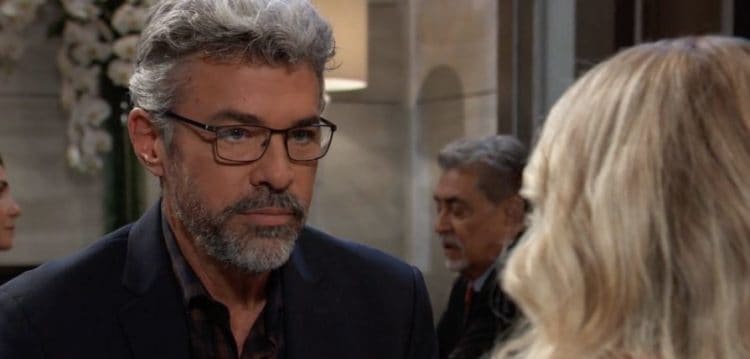 General Hospital fans are sure that we missed something without a day of the show, but things happen like this all the time. We know, looking back at last week, that Liz wants to have Franco committed, and we don't disagree with her. What's happening to him is a situation that no one can handle at the moment, and we cannot disagree with that and what it means for all of us. And, we can say with some sort of certainty, that there is a lot going on that we don't get just yet. This is hard on her and her family, and they need to know that they are safe. There is nothing they can say or do that will change the course of what is happening. They have to keep themselves safe, and they don't know what is going on in his mind at the moment.
Additionally, we also know that there is something happening with Jax as he's made a very graceful exit. We can say with certainty this is not the last we've seen of him for a while. But, for now, consider him gone. There's a lot happening. Additionally, we can also say that there is a lot going to happen in the coming week. But, for now, we can assume that some things will turn out to be a little more difficult. Dante will be another person we learn a bit more about in the coming days as he is discussed by his father and by Olivia, and that means we might get a glimpse into what we can expect from him and form his story line in the near future. Of course, things change all the time, and that means we can see things unfold in a difficult manner. What might happen here?
What's Happening on General Hospital
.@watroswatros Happy Birthday. pic.twitter.com/ganayLWwro

— James Patrick Stuart (@japastu) September 2, 2019
Happy birthday!
What's Next on General Hospital
"We're in unfamiliar territory." #GH pic.twitter.com/ylVpQdOYiT

— General Hospital (@GeneralHospital) August 26, 2019
Cameron might not be living his best life in terms of making the best choices and making the best decisions, but that doesn't mean things aren't working out for them as a whole. There are many things he wants to do to stay on the good side of things in terms of the people he loves and what is happening in their lives. He's making moves and choices, and those might not be the kind of moves and choices that are best. However, there is nothing else that they can do other than sit around and discuss what is happening as things are unfolding. There is nothing we cannot handle otherwise. For now, though, he's trying to be quite helpful at home, and we think that it is lovely of him to be this way.
Meanwhile, Julian is making life choices that leave him feeling a bit defensive. People are questioning him and his choices, and he feels that he has to defend what is on his mind and what is going on. They have to figure things out for their own families, and he has to figure them out for his. He's not going to sit here and make it happen, but he's not going to sit here and take it, either. But….what happens when Sonny and Olivia are going to discuss what is happening with Dante? Will they figure out how to help or what to do, or will everyone continue to worry about him and suffer for him? Will this change, and will Lulu get him back?
Stay tuned for more General Hospital and be sure to check out TVOvermind daily for the latest General Hospital spoilers, news, and updates.