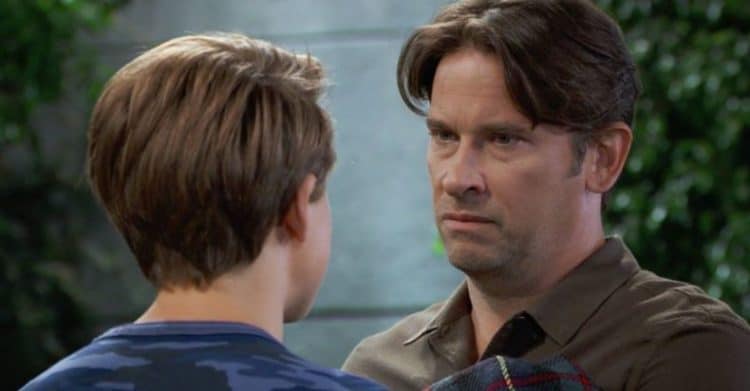 General Hospital fans have seen a lot of new faces come and go over the years, but we don't always love the faces that come and go. There are a bunch that keep showing back up these days, and we do kind of like that. But, with all these old faces showing up again out of virtually nowhere, we wonder how many more might make big returns this year. And we even have a long list of people we'd love to see come back and make us feel whole again in Port Charles, but there are some we vaguely remember and hope against all hope that they never come back or make any sort of return. There are just some people we never want to make a return because the character was just the worst. Some of these were longer-term characters, and some were not. But, they were all so bad we hope they never come back.
Tony Jones
Here's the deal; he was a Port Charles fixture from the early 80s to the mid-90s. That makes him a bit of a long-term resident of Port Charles, and that means he must have had something to bring to the table that fans loved. His character was spectacular for many years, but Carly literally brought him down after a quick affair. This once great character with a big and bold personality who was a helpful and respected doctor was suddenly a horrible person who lost his mind. He was crazy, and it was not easy for fans to take into their minds. They'd been watching this man for more than a decade, and he suddenly was not the same respected doctor who made more good choices than poor ones. He was suddenly a man who was making the worst choices of his entire life, and he was doing it while he was living a horrible life. Fans were not amused, and he lost all his credibility in that moment.
Melissa Bedford
If you don't recognize her name, you are not alone. And that by itself is a reason that we don't want to see her make a comeback. She's a mess, and she's not someone we love to see. She was only there for a about a year back in the early turn of the millennium, and she brought next to nothing to the table. She was a mess, and that's about all she had to show for herself. She was looking for a man she was with for a long time in the past, Roy, and she was hoping she'd find him there. She was a nurse, so she got a job at the hospital while she was looking for her man. But she just wasn't all that likable. Even with her storyline connecting her to the hospital and the people, she didn't come across as likeable. She didn't connect. She didn't make any friends, and she wasn't good enough to stick around or even have a good ending. Someone told someone else she might have killed some patients in a former job, so they fired her and she was suddenly gone.
Levi Dunkleman
We've mentioned him before as one of our favorite least favorite characters, and he is definitely one we don't want to see make a comeback. He was a total weirdo who managed to convince Maxie that they were in love and needed to spend their lives together. However, that did not go well for him or their lives. He was a total spiritual guru kind of man, which is not a problem. What was a problem was the fact that he was so much so that he couldn't even make one friend in Port Charles, which is something you have to do if you want to stick around here for any amount of time. He literally could not cut it, and we could not be more excited when he was out. He was killed, but we aren't sure that he really died. The good news, however, is that we are certain he will never come back. He was just really that bad in every single way that word can sound bad.