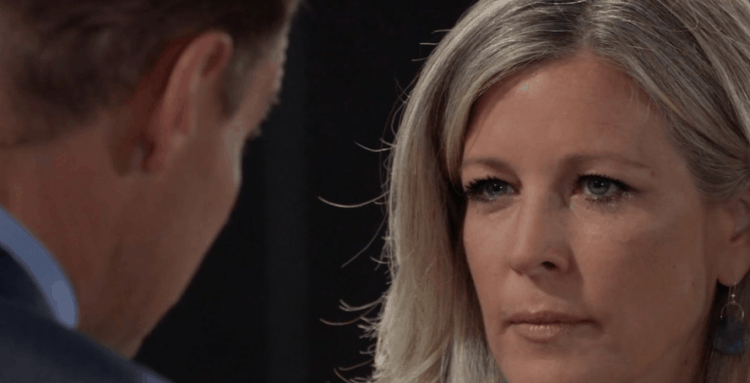 General Hospital fans are through a week of horror, and they are entering a new week of suspense. It's always the same though, and we want to focus on the baby that Willow has. Her mother is making her own life miserable. She's shared this news with Shiloh, who will do anything and everything in his power to hurt Willow after she betrayed him. He's a sociopath to the very last degree. He is a man who doesn't like to have anyone go against him. He doesn't care to have anyone work around him, either. He's a man who is not happy with his life, who does not want to have things go any other way but his, and this woman did the ultimate horrible thing. She had a baby with him, lied about it, and then gave the baby up. Now his baby is dead, he has no idea about that, and the baby he is after is actually Michael's baby. And, we don't think that knowledge will stop him from trying something awful.
Meanwhile, we know that Julian is trying everything in his power to ensure that nothing bad happens to this baby or to Lucas and Brad. They are worried, and no one is more worried than Brad. He's done horrible things, and he feels that they are all about to come at him in a big way. Will Lucas leave him when he realizes what's been done and that their baby is not their baby to keep? Will Michael ever forgive this? Can Brad play dumb and act as if he doesn't know the truth about how he ended up with this baby? We don't believe we will get the answers to any of these questions this week, but we do think answers are coming sooner rather than later.
What's Happening on General Hospital
The inmates at Pentonville are starting to look like a league of supervillains. What potential does Nelle see with Ryan?
A thrilling, new #GH starts RIGHT NOW on ABC! @chloelanier pic.twitter.com/pGdHLKfKic

— General Hospital (@GeneralHospital) June 13, 2019
Why won't she just go away?
What's Next on General Hospital
"But Shiloh, I can kill. And you're right, I don't wanna wait. I don't wanna plan it. I just want to do it and get it done!" #GH pic.twitter.com/WXF4C4yTxa

— General Hospital (@GeneralHospital) June 10, 2019
Peter needs some help, and the only way he's going to get that is to get to Mac and make it work. He needs him, but we aren't entirely sure that Mac is going to bother with that in the first place. There's a lot happening around here that might make things seem a bit more complicated, and that is something we do worry about. We worry it might not be enough. We worry it might not be what we need it to be. We worry it might make us all struggle a bit harder than we are struggling regardless. But, he needs the help and he's asking for it. Does he need help with trying to get things to work with Maxie, or does he need something else? We just don't know at this point.
Meanwhile, we know that some things are better left unsaid. We know that Jax is going to decline an offer that is interesting, but it might not be what he wants. Or, maybe it is what he wants, but he cannot say what he wants to say for fear of things turning around and making him a bit more miserable. It's all a bit much for us at this point, but we like it. We like that he is back, he is working to get his life where he wants it, and he's not afraid to say no when he feels that it's the right choice. For now, though, we can expect to see him a bit amused by the offer that's given to him. He's someone who doesn't take himself too seriously, and this might be fun to watch. Of course, it might not make Sonny very happy to have this happening.
Stay tuned for more General Hospital and be sure to check out TVOvermind daily for the latest General Hospital spoilers, news, and updates.