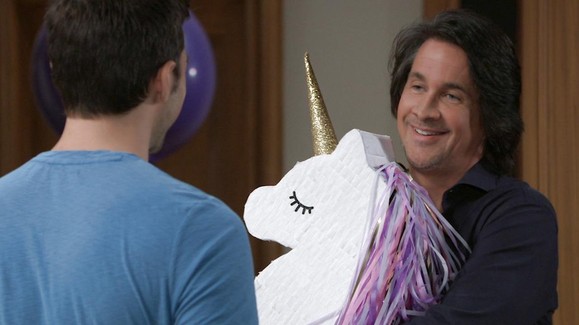 General Hospital fans never get to see Sonny in a surprised state, so to see him in one is a big deal. He's a man who likes to do the surprising. He likes to make sure people know what is going on in their lives when he tells them it is going on, and he's not a big fan of allowing people to get to him in any capacity. But, he's been given a chance to be the one with the surprise, and we just don't know if this is a good thing or if it is a bad thing. Jason, on the other hand, is doing bad things. He's incapable of keeping himself from Sam for any amount of time, and he's already snuck off to meet her and spend some time with her in secret. But, we can't say we are mad about this in any capacity. We like it.
Michael is not a dad who is going to leave his baby's side. He knows, realistically, that he cannot be with Wiley every moment of every day for the rest of his life, but he also knows that he has to figure things out for himself. He is afraid to leave his son with Nelle on the loose. It's not that he doesn't think that the people who love his son, too, won't protect him, but he cannot be sure that they would be willing to lay down their own lives in an effort to save Wiley's. We think that they would be, but this is not something we can stop him from feeling. Right now, Robert has to come out with some pretty upsetting news, and there does not seem to be much that he can do to change what is going on, but he did deliver.
What's Happening on General Hospital
I hope you all had a good #GH day @GeneralHospital You're home, we're your home ❤️

— Finola Hughes (@finolahughes) April 15, 2020
She is not wrong.
What's Next on General Hospital
"This has everything to do with Wiley!" #GH pic.twitter.com/i0YNCfESx6

— General Hospital (@GeneralHospital) April 13, 2020
We know that this week was a good one, but that doesn't mean we aren't looking forward to Friday. Even though all the days seem like a perpetual Monday with nothing to look forward to, nowhere to go, teaching our own kids, and just basically missing out on all the things that we love about life, it's still Friday. We don't say that to sound depressed. We are having a good time with our families living a much slower, much more deliberate life, but that doesn't mean that we don't miss traveling and going out to eat and booking flights and going places, and just knowing in general what our life will look like in a month or so. We miss those things. Real life seems like it was so long ago.
Friday, however, is a flashback day. We don't know what we are going to get to see this day, but we know that they are not going to show us something boring and unimportant. We know that these Fridays are going to continue to be days in which we see big events, highly rated shows, and really exciting things that people just love. We know it, and we love that. If we cannot see something new when the show airs on Fridays, we need to see something that will make us smile and bring us back to a different day and age. That is what we are here for right now, and we are so excited to see what they have in store for us this week as it has yet to be announced.
Stay tuned for more General Hospital and be sure to check out TVOvermind daily for the latest General Hospital spoilers, news, and updates.
Tell us what's wrong with this post? How could we improve it? :)
Let us improve this post!