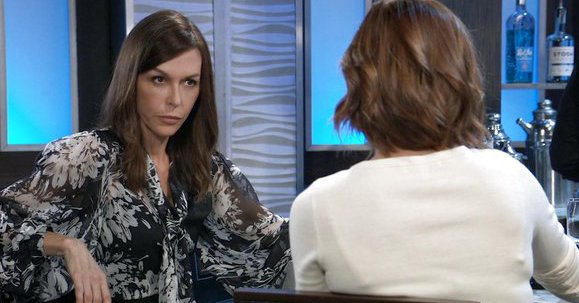 General Hospital fans know that the past week was a bit of a crazy one, but what else is new? Jax is not a happy man knowing that Nina is making choices he does not agree with at this point. He spent so much time trying to convince her that she did not need to spend her life with Valentin, yet she did just that. She might have left him at the altar on their wedding day after finding out the lies he told about her fake daughter and all he did in the name of making her happy and giving her something good in her life — or so he spins it that way — but there is nothing we can see or do that will make things better for anyone else. She's not going to stop what she's doing to make him happy, and she's going to be with the man she left because she wants nothing more than to be with his little girl.
Meanwhile, Drew is going to get the procedure that might make things better for Franco, but we don't actually know he will go through with it. Liz spent some time speaking with Finn about his life and the things that make him happy, but she's not sure she was able to get through to him. She's not sure she was able to make him see that some things are better left unsaid, some things are better left said, and some things are worthwhile. He's made some mistakes, but we don't think he sees that he can right them, fix things, and have some conversations that will make the entire situation easier on everyone. We don't get it, and we are not sure that things will work out for them in a productive manner going into this.
What's Happening on General Hospital
General Hospital surprise: Tracy Quartermaine will be home for the holidays https://t.co/aNliNeNROU

— Entertainment Weekly (@EW) November 21, 2019
What a surprise.
What's Next on General Hospital
"The clock's ticking… it's going to get unpleasant." #GH pic.twitter.com/8OCH3tK2Ke

— General Hospital (@GeneralHospital) November 18, 2019
Hayden is not happy with the way things are going, but she is not going to allow anyone to bully her. She is aware of what she did and how this all looks, and she's not about to let anyone get into her way or ruin anything she's worked so hard to hide, take care of, and manage on her own since she fled town so many years ago. She might have made a mistake coming home, and we think that she can see that. She might have thought things would go a different way when she got here, but she's refusing to take ownership of the fact that she put herself into this situation and expected things to go right as she felt they would. She should have thought about what she did, and then she should have put herself in Finn's shoes.
On the flip side, Laura and Jax are spending some time together trying to get to the bottom of things, but they are going to find out that they are not alone. Someone else is aware of their time together, and they are looking to find a way to get into that and make some big changes in their lives. They have to get their situation under control, but their surprise visitor might not let that happen so easily. There's probably more to this story than meets the eye, but what else can we tell you other than that they will probably not see this coming, and they will both be caught seriously off guard when their visitor arrives.
Stay tuned for more General Hospital and be sure to check out TVOvermind daily for the latest General Hospital spoilers, news, and updates.