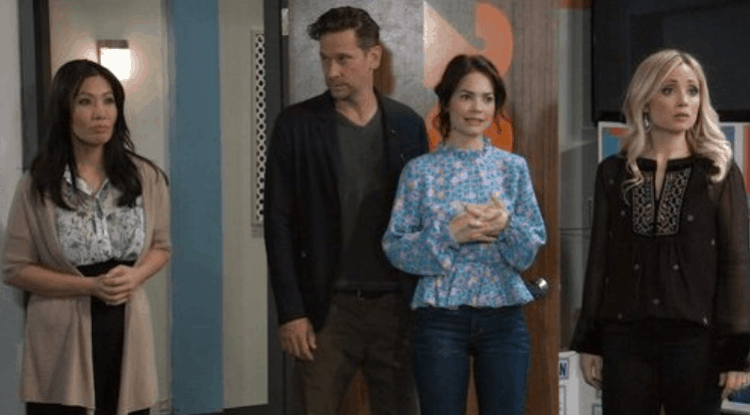 General Hospital fans started off the week with a confident confession. Lucas is in a bad place right now, and he's not sure who to talk to about how he's feeling. So many things are going on in his life that he's unable to control, and he's not sure who to go to. He's having issues with the people in his life, with his work, and with his family, and he's going to Bobbie to talk to her about it. We know that she probably has a few things to say that are kind and helpful, because that's just who she has become over the years. She's become a wise soul who likes to get her life together and make things work in her own favor. She's got her own situation to deal with, and we love that. But, she's also going to make sure she can keep him afloat as he's drowning in his own mind.
Then, there is the fact that we are all wondering about Diane. She's got a plan, but we aren't sure what it is. All we know is that she's got some time to make some decisions and do what she feels is the right thing to do. She's biding her time, and she's making it happen. She's got to handle this in her mind, but she's also going to do something that's not in her best interest. She's going to do something stupid, but not in the near future. Then there is Jax, who told his daughter that he has an offer for her. That offer is a change of pace in her own life. She's got some issues to face, and she's got to get her situation under control. Will she accept Jax's help in this matter?
What's Happening on General Hospital
WATCH: @MauraWest & #RogerHowarth get candid about those #NursesBall reaction shots and tackling disco with @gatitweets. #ICYMI #GHConvention @CreationEnt pic.twitter.com/bkFnvY4gom

— General Hospital (@GeneralHospital) June 21, 2019
All these questions answered, just for you.
What's Next on General Hospital
This summer is bound to be hotter than ever. ☀️#GH pic.twitter.com/LoTjlGCIR4

— General Hospital (@GeneralHospital) June 17, 2019
This is going to be a day that makes everyone a little bit unhappy, and we cannot figure it out. We know that Bobbie is going to have a moment. She's going to faint, and this will come shortly after she spent some of her time consoling Lucas and trying to offer him the kind of advice he needs to seek help in his upcoming endeavors — as well as putting the past in the past and leaving it there for good. He's not a good person to handle in the meantime, but she's going to faint and he might just be the one who gets to help her out. Will this form some sort of bond between them that might make them feel more connected? What about the fact that Chase has something going on?
He's going to make an arrest, but it's not who we thought he might arrest. He's been working hard to get this situation under control with the entire DoD thing, and it's been falling apart at the seams since it all broke down. And now, he has a chance to figure things out on his own. He's in a place where he gets to make an arrest, but we are not entirely certain that the arrest he is making is one that is going to help him out in any way. We want to know more, but we just don't at the moment. Then there is Sonny, who has been looking for some help looking in on Joss. He's not taking her father at his request, but he will go out of his way to find his own help.
Stay tuned for more General Hospital and be sure to check out TVOvermind daily for the latest General Hospital spoilers, news, and updates.
Tell us what's wrong with this post? How could we improve it? :)
Let us improve this post!