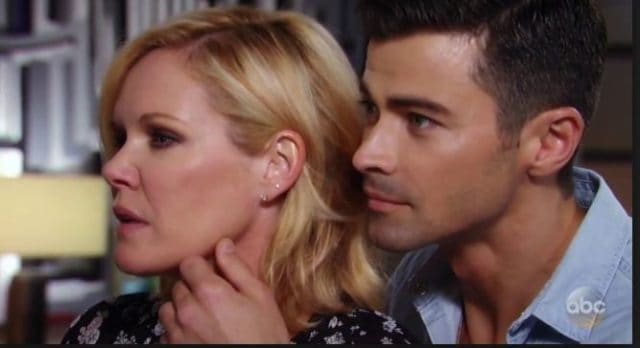 General Hospital fans are still not sure what is going to happen with Ava and Griffin. Things aren't good for them right now, and that's not a surprise. But they are going to perk up for them if we had to guess that things will change in their future. One thing that we did not realize might happen is the fact that there is a lot going on in their lives, and she's not done with him yet. She's not looking to be finished with the relationship they only just began. She wants more from him, and she will do anything she can to get it.
We hear there is going to come a time very shortly when she might try to entice him in some way, and we don't know if it will work. He's been in a bad place. He's overheard things that he didn't fully understand, and they left him in a situation he's not sure he can bear. Now he's got life problems he's not sure he can handle, and things aren't going to go his way for much longer.
But it seems that he's not all that innocent in any of this. He's done with Ava because he feels that she's making her own questionable decisions, yet here he is making his own questionable decisions. He's the one lying and making things stay behind closed doors in the dark. He knows about Peter and who he really is, yet he's chosen to say nothing about any of it. This is not the kind of thing he would normally do, and we think this might serve as a red flag for Ava if she finds out.
And she will find out. There is nothing that will not blow up in his face when everyone finds out that he knew about Peter/Henrik and didn't tell. He had his reasons, of course, but there is so much that he cannot do to keep this to himself. There's a lot going to happen to him in the near future, and we think that it will all blow up in his face.