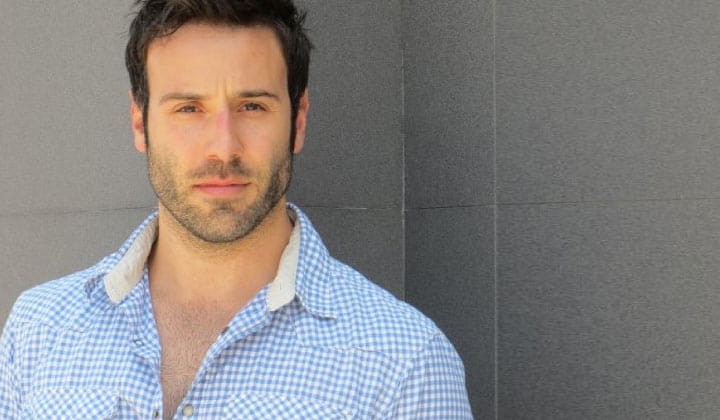 General Hospital fans know that there are more than a few people who come and go around here with a bad attitude and a lot to offer, and there is a new man in town doing just that. Shiloh is the leader of an ugly group of men and women who like to brainwash people and let them think things that are his opinion. Unfortunately for those people, his opinion is definitely not a good one. But, that doesn't mean much in the grand scheme of things. There is a lot he has to offer the show, but there are few people who like him. Is the man who plays the character as ugly as the one he plays? We doubt it, but we thought you might want to know a bit more about Coby Ryan McLaughlin.
He Loves Fatherhood
He's got a daughter, and he loves her. He is always posting to his social media account how sweet she is, photos of her, and that kind of content. If we had to guess, we would venture to say that he finds parenthood to be his favorite job of all. Of course, it has its ups and downs, but you forget a lot of the downs when you realize how good the ups are. Just saying.
He's a Man of Many Talents
He is a man who makes a lot of effort when it comes to his skill and talent, and we get that. He is not just a one-stop shop. He's an actor, yes, but he is also a singer and a man who has many other talents. He also loves to make breakfast, and he loves to be a real-life, present kind of person in his life and the life of his family. He's good at it, from the way it seems.
This is Not His First Job
He's not a man who only got his first job around here. He was in many movies and shows before he got this job, and that's something we appreciate. He's got the talent and the skill to continue to work on his career, but you've seen a lot of his work. He was a cop in "Lost Treasure," back in 2003. He was also a secret agent when he was credited for his first ever acting role in the show we all grew up on, "The X-Files," alongside some very famous faces.
This is Not His First Soap
Do you remember that he was not first on Port Charles? He showed up for a while in Genoa City, too. He was a man who was hired by Ashley when she was looking for someone to fake a DNA test for her brother. She was making it appear as if Jack was not the Abbott he thought he was — something their mother made easy for him as she was apparently quite the party girl in those days — and that was the situation that made some big waves in his life, his family, and her family. But, it didn't work out for her. She was found out, things were not good, and there was a major fallout.
He Likes His Job
He's done a few interviews since landing the role of the bad guy who came into Port Charles and started ruining lives. He's been along with the best of them doing just that, and we have to wonder if there is anything he will do in the future. Is he a one-time bad guy who will show up and go away without much else to offer, or is he one of those characters who will find a way to stay in town and make a name for himself? Fans seems to like him, so that might just work in his favor. But, for now, we know that he's said he really enjoys this role and what it means for him. He's having a good time working with the people he's getting to know. He's spent a lot of time working with Kelly Monaco, and he's had nothing but good things to say about her and her talent as an actress, but it's not like we didn't already know that about her.
Tell us what's wrong with this post? How could we improve it? :)
Let us improve this post!