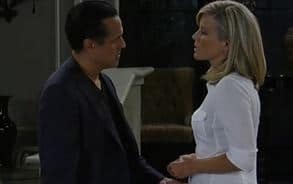 General Hospital fans wonder what Carly and Sonny will do to protect their son. Michael is in the middle of this situation with Nelle, and it doesn't appear to be getting any better these days. We do wonder what might happen if they find out how to make this work and how to make this go on, but we know she's a liar. And we have to figure that even though Sonny doesn't seem to realize what is going on, Carly does. She's not the type to sit back and let things like this happen without a lot of opinion, and we think that's going to make a difference soon.
We think she might just have something to say about this, and it might not be as good as people want to believe. Is there a chance that someone might just find out what is going on and protect this young man before it's too late? Is there a chance she will slip up?
We think it's more likely that Carly will push Sonny to find things out on his own. She knows this girl is a liar and she's up to something, and she's going to find out what it is. She's not sure how she's going to find out, but she's going to make it happen so she can protect their son. She's not having any of this young woman in her life. She's done with that and ready to move on with other things for her son.