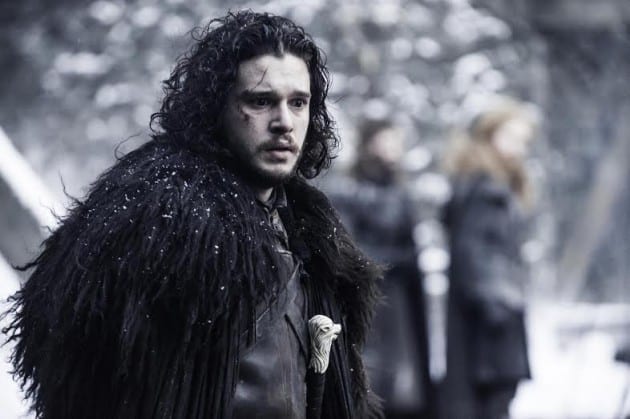 Though vengeance is an undercurrent of any Game of Thrones episode or story, the show's fifth season has doubled down on this particular thematic element as a catalytic dramatic device. All season, we've seen everyone from Arya to Jon Snow and back to Tommen come to terms with their inner anguish; and since this is Game of Thrones, thoughts beget action – and boy, does "Mother's Mercy" take its sweet time exacting all of its season-ending revenge plays, many of which make for some of the show's most shocking revelations. Heading into Season 6, the events of  "Mother's Mercy" leave the world of Westeros in a new stage of upheaval, nearly every single power structure in place devastated by the end of the hour.
As a season finale, "Mother's Mercy" attempts to put a big, bloody bow on each of its stories – and as expected with a show as expansive as GoT, it's not exactly able to handle them all with a deft touch. Take Dorne, for example: could this story have been any less effective? Forget the in-fighting amongst the Martell siblings; one of the Sand Snakes (because let's be honest, none of us know them by name) reminds Bronn that he "needs the bad pussy," neatly putting into place where the priorities during our stinted, thoroughly unsatisfying excursion to Dorne lie, wasting time with multiple new characters who only seem to exist to pad out the politics of Dorne with a little over-sexualization, as if to say "hey we know this isn't going that well – how about some boobs?" It's too bad, because Myrcella's death should be a powerful one; but the show has to shove so much in before we can get to the moment where she accepts Jaime as her father and subsequently dies that it's all rendered less than effective. Myrcella's engagement, her acceptance of her father… all of this is supposed to be conveyed by the half-dozen lines she has in the entire season, informed by characters whose names we barely know, much less understand their motivations and desires.
What frustrates me about Ellaria and the Sand Snakes is how poorly their characters are developed; the girls seem less motivated by the death of their father than the wishes of their bastard mother, herself an enigma who seems to have entrenched herself in the Dornish power structure, although it turns out the only power she had there was her poison. And beyond the conflict of Oberyn's death, what other reason do they have to exist? GoT hasn't really had any answers to this; and while there's no doubting the power of Myrcella's death in the macro story of the show, this season didn't do the catalysts of that particular ending justice (for example: can anyone tell us anything about Myrcella's betrothed except that he's too prince-ly to smack Bronn in the face?).
Thankfully, this is one of the few sore spots of the episode; for the most part, "Mother's Mercy" and its rows of cascading story dominoes makes for a satisfying impasse, one that marks the show's true departure from the storylines of the books (for those book readers that care about that sort of thing). And centered around the singular idea of revenge, "Mother's Mercy" has a strong thematic undercurrent that allows each of its stories to move beyond the act itself, and the fallout of such an event. Cersei's attempts to take down the Tyrells through the use of the Faith is a great example: that attempt at expanding her own powers turned out to be her damning moment, one that comes to fruition with her walk of atonement through King's Landing, a powerful scene that is a great counter-example to how the show usually uses nudity, here (mostly) using it to create the uncomfortable air of humiliation, to make us feel as uncomfortable as Cersei does, trying to make her way back to her son at the capitol. It's a moment of despair, of hope, depression, anger, and internal fortitude – and Headey carries it beautifully, really capturing the emotional journey she takes from getting her hair cut inside that cell until she's carried away by what appears to be a re-animated The Mountain back in King's Landing. "Mother's Mercy" is very much an episode about shifting power structures, but what is a Westeros' power structure without multiple Lannisters mucking things up in the capital?
Quietly, Stannis' arc in this episode was also a powerful one: though it initially feels like his story is being rushed through to get to the Brienne/Stannis moment, how quickly he went from the most powerful army to dead is unsettling, to say the least. Though this is the fate for a man willing to murder his child (and his brother) in pursuit of what he thought was his, the sheer swiftness of the events around him in "Mother's Mercy" are a bit of a letdown. He's barely heard about half his army deserting him before Melisandre's gone, and Stannis is making the idiot's decision to march forward (after all, what self-respecting leader knowingly marches his sworn defenders into defeat?). Again, Stannis' decision (like Ellaria's) makes sense, given the horrors they've witnessed/catalyzed over the last two seasons – but it's still a disheartening, swift end, one that makes the torture of Shireen in last week's episode a little less compelling, save for it being a revelation to Melisandre that she's in the wrong place.
By the same token, Jon's story of losing power comes just as swiftly as Stannis', but with much more time and care given to Snow's character, the moment "for the Watch" is a bit more effective, even as we all know Melisandre sits in the back of Castle Black, clearly traveling somewhere she thought king's blood would lie (yes, I know: Kit Harrington is telling everyone he's gone from the show for good – I don't believe it for an instant). Jon's death, in an odd way, mirrors that of his (assumed) father's: trying to protect the kingdom is such a macro idea, and it led to Jon forgetting to pay attention to the micro-management of his own world, and without that special touch around Alliser and the others, their rebellion at his attempts to integrate with the wildlings is all but a foregone conclusion. Jon Snow may die, yes, but the story at Castle Black certainly doesn't end here; it makes for a chilling final scene, even if it's not as compelling upon reflection, viewing all the dramatic construction around this story to ensure an escape route for Jon's character, even if he does "die" in this episode.
Rather than entrench myself in those debates, however, let's move on. "Mother's Mercy" also marks the next important step in Arya's journey, which sees her blinded after she uses the face of another to take down Meryn Trant in his brothel, moments after learning that Ja'qen was both the teacher and the waif he spent time with this season. Arya's story has been a little up and down throughout Season 5: delving further and further into the supernatural seems like natural progression for all stories in this world, but this scene raises more questions than answers. How many people can Ja'qen be at once – or is he just the Many-Faced God reincarnated, shifting faces and allegiances in some dark, manipulated corner of Westeros? Beyond that, what does Meryn's death mean for the negotiations between the bank and the throne? Game of Thrones occasionally suffers from giving moments the right context; and like Stannis and Ellaria before her, Arya's scene plays a little bit like a list of bullet points from the books, assuming that viewers will be able to pick up on nuances that many haven't read (or in this case, have entire segments ripped from the text in order to simplify the narrative).
And then there's Sansa, who gets the goofiest cliffhanger in Game of Thrones history. Her story this season literally ends with her in mid-air, after jumping off the cliff with Reek, who has suddenly rediscovered his humanity after watching Sansa get raped for half a season. He kills Ramsay's jealous whore (because women, amirite?) and then they jump over the side of a fence. This takes up literally five minutes of the episode, if you include the latest ironic passing of Stark girls with people who can help them with Brienne and Poderick looking away the moment she lights the candle in the highest Winterfell tower (the timing on Game of Thrones remains laughably traditional to other dramas, even as GoT tries to establish itself as the antithesis to these shows). Throw in an image of Ramsey murdering a surrendered Baratheon soldier, and you've got a neat bow throw on top of the show's messiest story this season, a story that literally comes without an ending, a silly, unnecessary cliffhanger tossed in to give it some sense of an arc, one that goes beyond sexually assaulting Sansa in her childhood home.
Season 5 of Game of Thrones was a bit of a hot mess at times; as the show continues to re-arrange its characters and alliances, it can fall into a bit of a chaotic pattern of undeveloped stories, something Season 5's ADD-like tendencies fed into. Long sequences in some locations led to strange, undeveloped endings – wait, Dany left everyone behind in Meereen, but they're still in power, and now she has a khalasar again? – while other stories (like Sansa's) are important early in the season and fizzle into nothing here. GoT is a massive balancing act, and Season 5 often showed the strain of such management (and as a finale, "Mother's Mercy" kills a lot of people to help thin that out). Outside of the disaster known as Dorne, however, this season really embraced the GoT: The New Generation story I posited it would be early in Season 5, delivering a number of satisfying arcs and moments, led by that image of the Night King raising up a massive dead army as a taunt to Jon Snow. Those moments can't be matched by any other on TV; and even as GoT remains as massive (and massively flawed) as it ever was, Season 5 was still full of the small individual moments that keep viewers engaged, far beyond the parade of breasts and blood that often leads to the show's biggest debates and negative declarations. And as Game of Thrones heads into a season that may debut before the book it's mostly going to cover, "Mother's Mercy" is an important turning point for the series. For the first time, we really have no idea where Game of Thrones is going in 2016, even for book readers – and that's an undeniably exciting feeling.
Other thoughts/observations:
– Nothing in this finale was better than seeing Varys show up mysteriously at Tyrion's side in Meereen. I literally shrieked with joy.
– Jon, to Sam (who is heading to Old Town to finally become a maester): "I'm glad the end of the world is working out for someone."
– Arya: "I can't hear you."
– Tyrion, Missandei, and Greyworm in charge of Meereen should be interesting, even if it's total BS that "the Unsullied are the only ones to protect the peace." They are saying this literally hours after a huge massacre at a public event.
– "The Mother is merciful." Is she, though? That walk of atonement felt less like atonement and more like self-righteous shame. After all, shouldn't all the judging and cursing of her by others be considered sins of their own? Just a fun reminder that religion always has a self-serving agenda, one that turns a blind eye to something unfavorable to its belief system.
– Stannis loses his wife, mistress, half his army, and all his horses in the course of the first ten minutes of the episode: despite all the melting snow, it couldn't be a colder day in hell for the last standing Baratheon brother.
– Aaaand that's Season 5. Thanks for joining. See you in 2016!
[Photo credit: Helen Sloan/HBO]