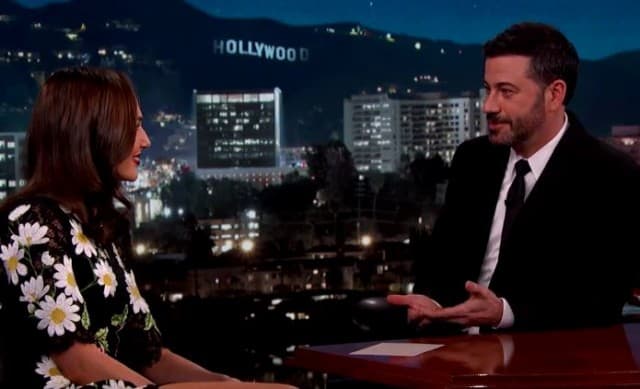 Gal Gadot, Wonder Woman herself, appeared last night on Jimmy Kimmel Live to talk about Batman v Superman, which hits theaters next Friday, March 25, and to discuss the upcoming Wonder Woman film, which she is currently shooting right now. However, while the pair's conversation started off about comic book movies and their extremely passionate and dedicated fans, it quickly headed into a different, slightly more awkward territory after Gadot asked Kimmel a certain question.
Kimmel, who said that he's seen the movie, told Gadot that he knows "how seriously comic book nerds take this kind of stuff because I am one." Gadot's response was not what the Jimmy Kimmel Live host was expecting.
"Really?" she said. "What do you think about my breasts?"
After Kimmel's shocked reaction and a lot of laughter, Gadot explained that even though it sounds weird, there was a reason why she asked it. Apparently, when many comic book fans first objected to her playing Wonder Woman, saying that she didn't have the same figure as someone like Linda Carter, they specifically commented about her breasts.
"What's wrong with these guys?" Kimmel said.
But their discussion of Gadot's breasts did lead them into talking about the new Wonder Woman costume and how different it is than the one fans were used to before. Gadot then explained how difficult the costume was to wear when she first tried it on, two days after she had gotten the part. But what made it so challenging to put on? It was the fact that she could barely breathe while wearing it.
"Then they got me into the fitting room, and I was so happy and grateful and thankful for being there and doing this role that I didn't say anything about the fact that it was so tight and I literally could not breathe," Gadot told Kimmel.
"They made it too small?" Kimmel asked before joking that the men who made the costume were "perverts."
Watch Gal Gadot and Jimmy Kimmel discuss the Wonder Woman costume, Batman v Superman, the upcoming Wonder Woman standalone film, and much more in the video below:
[Photo via YouTube]