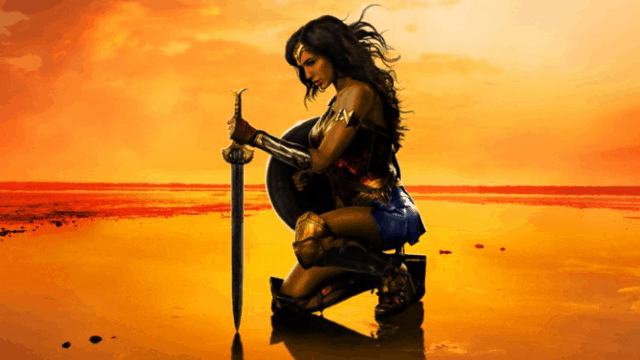 Wonder Woman officially has a new poster courtesy of Gal Gadot's Twitter account. Gadot tweeted, "Believe in Wonder. Here it is, the new poster for #WonderWoman!" The poster features Wonder Woman kneeling on a beach with her sword. As for the location of the beach some are speculating that it's Themyscira, the island home of the Amazon princess.
Wonder Woman is going to be the third feature in the DCMU (DC Comics Movie Universe). Following Batman V Superman and Suicide Squad won't be that difficult from a critics perspective. While both of those films did very well at the box office, fans of DC Comics were less than impressed. Needless to say there's pressure on Gadot to deliver not only a money making film but one that resonates with fans of Wonder Woman herself.
The film has certainly not been short on marketing but that doesn't always translate to Box Office success. Also, for those concerned that this film will be as "dark" as the other two, that shouldn't be the case.
"'Wonder Woman' is very different in tone and style than 'Batman v Superman' and 'Suicide Squad,'" said Deborah Snyder. "Fans of the DC universe know that there are characters, like Batman, who are darker, but there are others like Wonder Woman, who are hopeful, optimistic leaders, and the tone of this film represents that," Diane Nelson, president of DC Entertainment and resident of Warner Bros. Consumer Products, added.
Check out the full poster below:
Believe in Wonder ✨ Here it is, the new poster for #WonderWoman! pic.twitter.com/0dmWd5dsC8

– Gal Gadot (@GalGadot) March 10, 2017
Save