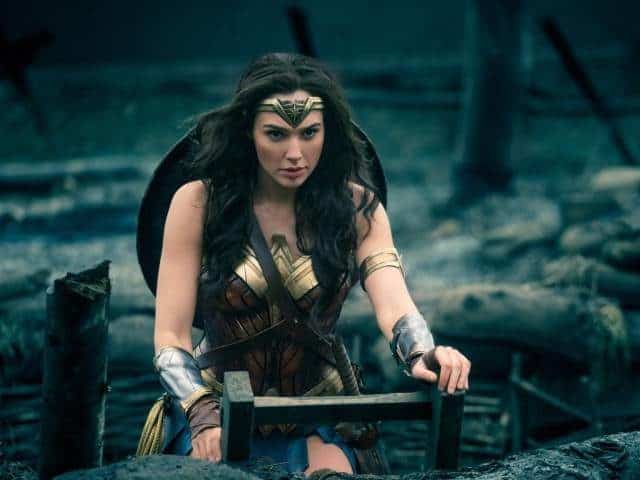 Why? She's Wonder Woman of course. Gal Gadot should have no issue hosting the second episode of SNL's 43rd season for one reason alone: she's already taken on one of the toughest roles in Hollywood. After playing the role of Diana, the young Amazonian warrior princess in Wonder Woman, there should be nothing this woman can't do. There were critics aplenty just waiting for her to fall on her face throughout the film so that they could declare the death knell of the DCEU with her failure. But what happened?
She nailed it without a hitch. Sure there were a few scenes that didn't make total sense like the last one where she leaps into empty space for no apparent reason, but throughout the rest of the film she was solid gold the entire time. Gal Gadot took on a role alongside some of the most well-known actors in the business and shone like a star just freshly minted and rolled off the line. She's already established that she can get down and dirty with the boys on the set, so it should be no challenge for her to do the same with the SNL cast when it comes to comedy and the many skits that they're likely planning.
And yet she's nervous. There's still a good reason to be honest. She's never hosted SNL before and it is a big responsibility despite the fact that the host is a glorified figurehead that serves as the voice of the show for a single night. But she's walking in the footsteps of many that have come before and done a great credit to the show by being among the best hosts possible. Those that have been returning hosts are bound be those she might study, as are those that people responded well to if she really wants to understand what works and what might get her booed off of the stage.
I really don't think it will come to that however since Gadot is currently riding a career that shows no sign of stopping or even slowing down. Her role as Wonder Woman has easily eclipsed the role she played in the Fast and Furious franchise, though if you really recall her role in those films you'll know that she's already proven that she can be undeniably tough at the drop of a hat. There's no doubt about the amount of nerve she brings to any cast, nor the level of commitment she has to her craft. But it's normal for even the most seasoned actor to experience a case of the willies now and again. It's stage fright of the sort that never seems to go away, particularly when you're doing something you've never done before.
But in all honesty Gadot should be fine. From her already fiery nature to the confidence she's shown onscreen she's proven that she's up to the task of talking to the people and getting them to pay attention. After all, acting is all about connecting with the audience whether you're speaking directly to them or not. If she can pull off the role of Wonder Woman then nothing should faze her at this point.