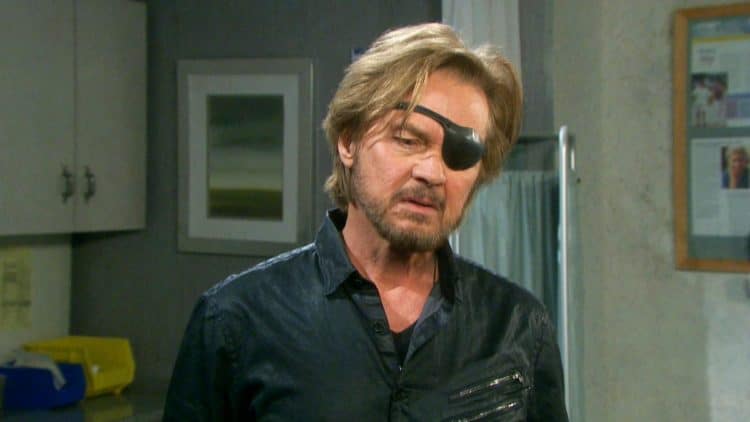 Days of Our Lives fans have mixed feelings about Stephen Nichols' big return. For one, we are very happy that he is back in general. We love him and all that he brings to the show, but we are sad that he's not back as himself. We are all sad that he is not Patch — Steve — love of Kayla's life and man of her dreams. We are all down that he's back and not himself, and that's a real bummer. But, playing Stefano is something of an honor considering we didn't think that anyone could take on this role and make us happy after the man who played this role so long passed away a few years ago. To be so good and so beloved you get to have this role and people are okay with it is something special, and it makes us want to pinpoint a few other fun facts about Stephen Nichols we think are so fun.
He Was A Monk
If you ever thought that there was one thing that he didn't do, it's leave Salem to become a monk. Honestly, it's one thing that we think has not been written into his story at any point — though we are not sure we've been around as long as this story line, so we could be mistaken about that one. He's been dead, back from the dead, another person, himself, kidnapped, blackmailed, horrified, happy, a killer, a helper; every single thing. But, did you know that in real life, he was actually a monk? That's right. Stephen Nichols spent many years living that monk life. This means he was part of a group of men who did very specific things every day to promote their personal way of life without interfering with the lives of others. He was someone who did enjoy it, too. He worked at an ashram in Hollywood making meals for the fellow monks and nuns, and he made them all vegetarian. He spent approximately three years doing that. It's a long time, but he seems to have some fond memories of his time there.
He Turned Down a Scholarship to THE Ohio State
Now, we are going to cause a bit of a scene here, but rest assured that it's all in fun Ohio State fans. As Florida Gators, it's easy for us to poke fun and say that we, too, would turn down a scholarship to "THE" Ohio State in favor of heading out to Hollywood to join an ashram and live celibate as a monk for three years as the better option, but we all know that's only because one of our favorite former coaches retired from our field to go to yours. So, there's that. But, in all honesty, he did turn down a scholarship to attend college at The Ohio State, which is an amazing place of higher education, to become a monk. Since he is living his dream right now, we aren't sure he regrets it, but we do know this is not an opportunity too many people would pass up in favor of vegetarian cooking and monk-living in Hollywood for three years. He could have actually graduated in that time — plus a year — and made his way west afterward. But, his path worked for him, and he's amazing, so no regrets.
He's Amazing Friends with Mary Beth Evans
If you've ever wondered what it is about him and Kayla that work so well, perhaps it's their longtime special friendship. They are so very close, though not romantically. However, they are tight-knit friends who spend a lot of time together. They have a great deal of respect for one another, and they are such a wonderful on-screen couple because of their wonderful off-screen friendship. It's not always easy to make that work out when you're so close off the air, but it works for them. You can see that they work hard on their own characters in a way that allows them to make the other look so good. They really compliment one another in terms of their work ethic and their ability to allow their on-screen partner to shine. They are amazing because of their mutual respect.