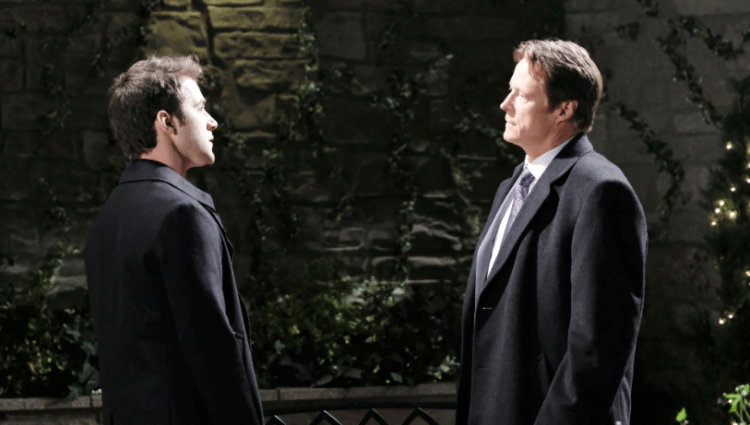 Days of Our lives fans lived through what can only be described as a very long and very tiring week last week. We saw a lot happen, and it will have some bearing on this new week. The new Jack is back, and no one seems to like him nearly as much as they did the Jack who died so many years ago. He might not remember who he is, but his friends and family do. And they are not impressed by the man he is. His own son is horrified that his father would try to use the immigration status of a young woman he doesn't even know that well to further his own agenda. He's not impressed by his father these days, and we get that. We get that he's not the same man. JJ is not approving of his 'new' dad having returned from the dead.
And Jennifer isn't a fan, either. She's not sure who this man is, but she's sure he is not the Jack who belonged to her prior to his death. This man is not her husband. And he is not someone who wants to be with another moment. He is not the kind of man who makes her heart happy, and we get it. She's a mess, and he is the reason for that. And she's not impressed. Her daughter got remarried to Chad last week, and they made the decision to leave Salem for good. They're gone, and we can't fault them for wanting to go and make their lives their own again. We saw the rage that Stefan flew into when he realized that Abigail would never be "Gabby" again, and he lost her. She needs to be very, very far from that in every way. We get it, and we approve.
What's Happening on Days of Our Lives
No pre-wedding jitters for this gal. #DAYS

📷: @katemansi pic.twitter.com/j1spvR8udp

— Days of our Lives (@DaysPeacock) February 22, 2019
And now she's gone with her new/old husband for a better life.
What's Next on Days of Our Lives
In the latest #DAYS, Ciara learns the truth about who set the fire that almost killed her. Now she wants to know why. Watch Days of our Lives, weekdays on NBC. https://t.co/ZsCmioRrzb pic.twitter.com/BmWMBd78YD

— Days of our Lives (@nbcdays) February 22, 2019
Days fans are very excited about what might happen today on the show now that Ciara and baby Charlotte are happy and alive and well and have bee located. It's all because of Ben. Hope finally realizes that this young man is not the young man who started the fire that almost killed her daughter. She is not the kind of mother who wants to see her daughter with a man like Ben — because what mom in her right mind is okay with someone like that? — but she is the kind of mother who will do anything she can to find things working in her favor. She's not going to be very happy that her daughter is so in love with Ben, but she is going to take the high road. She's decided to apologize to him for her judgment. She's got a lot of very valid reasons in her mind to feel that she had the right to feel this way, but she's going to deal with things in a way that makes her feel better.
She will talk to Ben, and she will tell him she is sorry. She is sorry for the way she judged him. She is sorry for the things she did to him. She is sorry for all that happened in his life and her life and all the lives in and around theirs. He will be appreciative to her for doing this and for making this decision. She will not be very happy about the way things are going in her life, but it's all good.
Stay tuned for more Days of Our Lives and be sure to check out TVOvermind daily for the latest Days of Our Lives spoilers, news, and updates.