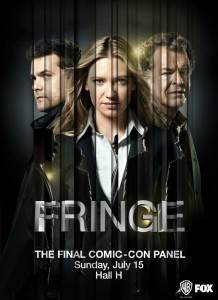 Moments after an emotional farewell at Comic-Con, the cast of Fringe sat down with reporters in the press room to discuss the final season of the critically acclaimed show.
As John Noble said during Sunday Morning's panel, "The thing that holds Fringe together is the power of love," so it's no surprise that many of the stars discussed the relationships their characters have held with each other.
Almost all of the cast members mentioned that having this clear end point with a specified number of episodes helps the storyline get stronger. Many of them appear to be grateful that executive producer J. H. Wyman has given them the details of what's to come and contributed to how they're going to this final season on. "It's nice to have this shortened season that has a really specific linear story that it's trying to tell. A very, very clear beginning, middle and end story. To really think out alright so those are the sign posts of where he's taking the story this year, how do I want Peter and Olivia to be in episode 4 and how do I want Peter and Walter to be in episode 8. It allows me the opportunity to think out those things ahead of time," Jackson said.
Noble remarked that he is "approaching this season with a lot of trepidation because I think what I don't want to do is continue on some random version of Walter. It needs to be very directed toward the end goal, towards the end game so I'm actually preoccupied now thinking about how do we take those steps."
Noble and Joshua Jackson both talked about what they'd like to see happen with their characters. "What I want and what Joshua wants is we want to reestablish the father/son relationship that was absolutely critical to the success of season 1 and 2. I know that will work emotionally for the fans as well." Noble went on to talk about how hard they've worked to have that relationship be the way it was.
Jackson thinks the ending of his character really has nothing to do with him. "I think Peter needs Walter to forgive himself for kidnapping Peter when he was kid so he can be a happy and whole person. And if that happens, I think Peter will be a happy man."
Lance Reddick, who plays Broyles "would like to see my character have a really heroic role, not necessarily but possibly a heroic death." At the end of it all he'd like fans walk away with a feeling of "Wow, that was a great story."
Saying goodbye to her dad would be an important thing for Astrid mentioned Jasika Nicole. With much, possibly all of Fringe's final season set in the future, she'd like for them to be able to at least come back to the "present day."
For Torv, she said she'd "rather not say" because she "feels like what's going to be, will be, will be." As it's the first time the stars "really know what we're doing for the season so therefore I don't want to imagine things that i want. I want to be totally committed to what we are doing."
What would you like to see happen in the final season of Fringe!?
Fringe returns on Friday September 28th at 9pm on FOX.
Tell us what's wrong with this post? How could we improve it? :)
Let us improve this post!