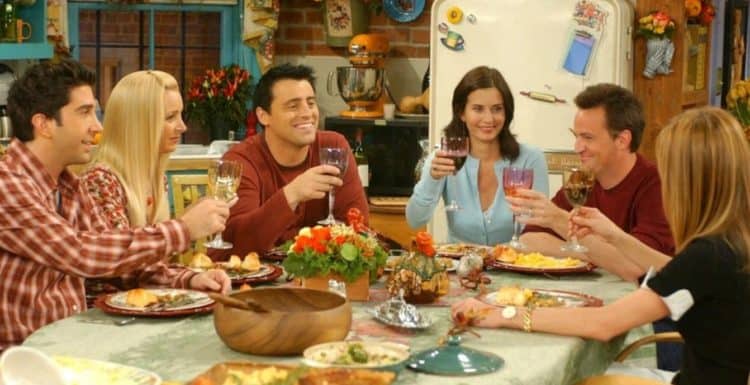 As Ana Dumaraog from ScreenRant puts it there's something special coming when speaking about Friends and the fact that it's airing the Thanksgiving episodes on the big screen soon. If one went far enough back in cinematic history they might find that there was a time when the big screen was more akin to a TV broadcast than the epic experience that many people expect to see these days, but lately it does feel as though the shift has been leaning back towards the old ways, especially given the various commercials and promos that are flashed on the big screen. Friends was a sitcom phenomenon that started up in the 90s and gained a great deal of speed throughout the years since it elevated the careers of the core group in a big way. While only a couple of them have really seen any sustained success the others are still well-known and missed in a big way by the fans. But quite honestly, bringing them to the big screen seems a little excessive.
Fans are already going nuts about this opportunity, especially as Bianca London of Glamour has mentioned that Jennifer Aniston has stated that there's something special on the horizon for the people. What that could be isn't really certain, but it's easy to say that people are already excited for it. Plus, there's an idea running around that the Friends cast might get together for a reunion of sorts that a lot of people would go gaga over since the show became one of the most well-liked in its time. It had plenty of competition back then, and as one of the more heavily-watched sitcoms it somehow still managed to come through as one of the most popular and endearing comedies that injected more than enough drama into the mix to keep it interesting. For some of this show was something to watch when there was nothing else on, I know, shocking, but it's easy enough to give credit where it's due. Friends did manage to gain a great deal of popularity over the years, enough so that women were actually styling their hair after Rachel and many other moments from the show were being found continually within society.
The reason I say it's excessive to bring this show, even various points in several episodes, to the big screen is simple: it's not needed. Thanks to streaming networks and the fact that many shows are so readily accessible to the people at this point the show could easily run this special on Netflix and it would still gain the attention that's desired since so many people are tuned in to the network that it would be a thing of ease to hype Friends on Netflix without taking up time and space in a theater. But again, it's easy to understand why this is happening, given that Friends is still a very loved and idolized show and could bring in a great deal of revenue for those that would love to take advantage of the luxury that's being afforded, as this is what it is to be honest. To each their own really, but I still think it's excessive, and that's my own opinion.
One thing about Friends is that it's always seemed like a very well-balanced show no matter that I'm not a fan and am not about to become one. Still, the show made its way well beyond the cynicism and neurotic nature of other shows, such as Seinfeld, and became more of a support group-type of show than a group that sticks together simply because they all have issues and have reached a stable comfort zone. In truth, Friends has this as well, but the characters are still more outgoing, they're not nearly as cynical, and there doesn't seem to be a fatalistic view to the entire show, meaning there's always hope that things can get better, that the characters aren't just stuck where they are and will be doing the same thing over, and over, and over. Now that the show has been over for a while it's easy to analyze it and see just why it became so popular, but this is one core concept, they acted like human beings, not cardboard cut-outs with a dash of emotion thrown in for flavor. Trace William Cohen of Complex has more to say on this matter.
This and the fact that the characters were both vibrant and dark in their own ways made it a bit easier to relate to them since one could see a bit of each character in themselves at times and as a result felt comfortable watching the show. With a show like Seinfeld it left a bad taste in the mouth at times since one had to remind themselves that not everyone lived like this, that such a dim and troubling view of life wasn't always the norm, but with Friends the idea of community was stronger, which is a lot easier to relate to.