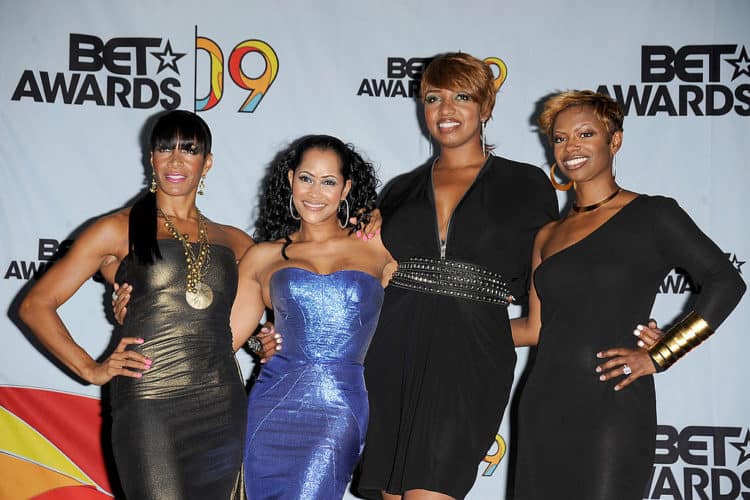 It's been more than a decade since The Real Housewives of Atlanta aired its first episode, and during that time the series has become one of the most popular in the Real Housewives franchise. Known for having the best drama, the hottest tea, and the shadiest reads, RHOA has become a staple in a lot of people's lives. Over the years, however, the show has undergone quite a few cast changes which have left it with a slightly different vibe each year. As the show approaches its 14th season, it has already been announced that longtime cast members Porsha Williams and Cynthia Bailey will not be returning. Now that some spots on the cast have opened up, it's fun to think about which old cast members would be fun to add back into the mix. Keep reading to see the former Real Housewives of Atlanta castmates we'd love to see make a comeback.
1. Phaedra Parks
Phaedra Parks was a cast member on RHOA from seasons three through nine. She is easily one of the most memorable cast members of all time. Phaedra, who is an attorney by trade, was no stranger to reading people up and down and she also never shied away from drama. Although it seemed like Phaedra could've easily stayed on the show forever, she was fired after season nine for spreading sexual assault rumors about other cast members. While it's highly unlikely that she will ever be invited by to join the cast, Phaedra would always be a fun addition.
2. Nene Leakes
Nene likes is arguably the most famous Atlanta Housewife of all time. She was a main cast member for the show's first seven seasons and she returned as a guest for the eighth. However, as Nene's fame started to grow, she decided to leave the show in favor of other opportunities. Upon her departure, countless fans expressed that the show just wasn't the same without her. After being away for season nine, she returned as a full-time cast member for seasons 10 through 12. Once again, she brought the spunk and she wasn't ever afraid to tell people about themselves. Nene chose not to return after season 12 and lots of people were once again disappointed. It doesn't seem like she'll ever come back again, but I think most people would agree that it would be great if she did. Nene knows exactly how to make good TV, and the series is at a place where it really needs that.
3. Kim Fields
Kim Fields was only a cast member for one season, and many viewers dubbed her as boring. That said, Kim definitely had lots of potential to bring the shade, so it would be nice to see her get another chance. However, if she ever does get brought back to the show, she's going to have to stop worrying about protecting her image while on TV. That was a big part of what held her back during her time on the show, but if she's willing to let loose Kim could be a very entertaining cast member.
4. Lisa Wu
If you're an OG Real Housewives of Atlanta fan then you'll remember the days when Lisa Wu was part of the cast. Lisa was fun and energetic, but she was also the kind of person who didn't take any mess. Because of her demeanor, some of the other cast members tried to push her buttons but she always made it clear that she wasn't the one. Lisa ultimately decided to leave the show because she felt like the show stopped being "real" and she didn't want to have to be fake for the sake of entertainment. Since a lot has changed since Lisa's last appearance on the show, it would be great to see how she fits in with the new cast. Plus, RHOA could use some realness and she might just be the perfect person to bring it.
5. Kim Zolciak-Biermann
As a main cast member for the first five seasons, Kim Zolciak was that person who knew exactly how to get under everyone's skin. Although this sometimes rubbed viewers (and the rest of the cast) the wrong way, Kim definitely brought lots of entertainment value. Although she returned as a guest and friend for seasons nine and ten respectively, she hasn't been on the show at all for the last several years. However, now that her show has ended, it looks like this would be the perfect opportunity for her to jump back on the RHOA bandwagon.
Tell us what's wrong with this post? How could we improve it? :)
Let us improve this post!