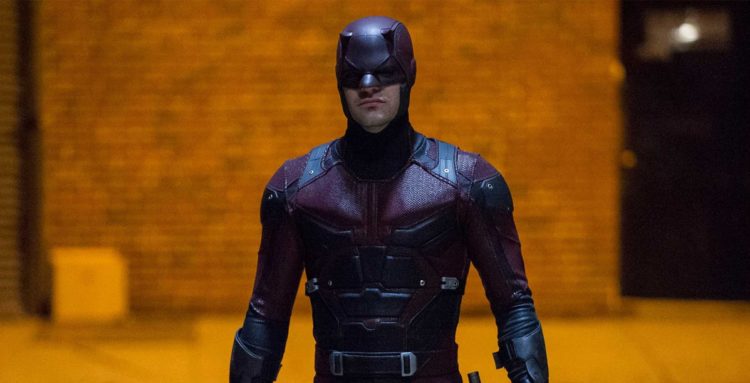 Between Charlie Cox and Ben Affleck, who would you say played the better Matt Murdock, better known as Daredevil? Trick question, because we've all accepted that Ben Affleck has moved on from that role. Good thing, too, because he's much better as the aging and brawling Batman. Oh, please let him be the bat a little while longer. I doubt he'll ever reprise his former superhero role, but no one's asking him to. That's because we got ourselves a new and improved version of the blind defender of Hell's Kitchen back in 2015. And it should be pointed out that Daredevil is basically the Batman of Marvel Comics, other than the underrated Moon Knight, of course. Speaking of which, how can you not be super stoked for his upcoming Disney+ series? Boy, I cannot wait to finally see that awesome figure in live-action form. But hold on, what about Daredevil? Casting Charlie Cox as the new Daredevil for the 2015 series on Netflix was like a big breath of fresh air for Marvel. It technically was a part of the Marvel Cinematic Universe, since they mentioned the Battle of New York right off the bat, which they called "The Incident". That was cool, especially since the show made several references to the Avengers. In fact, Charlie Cox was like Robert Downey Jr. for the Marvel shows on Netflix, because he started something. It was a whole new line of MCU characters kicked off by Charlie Cox's Daredevil. What came after was Jessica Jones, Luke Cage, and Iron Fist. Oh, and then the Defenders, but that was kind of anti-climactic.
What I dug most about the Marvel Netflix shows is that they all centered around the street-level heroes of Marvel. Now I know many Marvel fans find it difficult to connect the Marvel Netflix shows to the MCU. I disagree, especially since they all showed the street-level heroes deal with the aftermath of the catastrophic Battle of New York. The big and popular Avengers fought the battle, but heroes like Daredevil and Jessica Jones had to confront the people who were at the center of it all after the battle. Some of this led to violent confrontations, including leaving open a void for the crime lord of New York to fill. As well all gracefully remember, this led to one of the greatest comic book rivalries ever. Charlie Cox as Daredevil and Vincent D'Onofrio as Wilson Fisk was perfect casting and we didn't even know it. Watching their rivalry grow throughout the series was by far one of the top highlights of the series. It was so great, that the heartbreak was almost to much to bear when Daredevil and the other Marvel Netflix shows were canceled in 2018. What a crying shame. I would've loved to have seen that full story be completed, but then Disney+ came around. I guess Marvel has no intention of bringing back those Netflix characters. Then again, it all depends on what Kevin Feige likes. He had no creative say in the Netflix shows, but he was a fan of Charlie Cox as Daredevil. Oh, and he also liked Jon Bernthal as the Punisher. That's good news, but I wonder if he'll ever consider bringing those characters back into the MCU.
No matter what you say, those characters were a part of the MCU and they should make a return. Okay, maybe just some of them. One of those characters is undoubtedly Charlie Cox and his very awesome version of Daredevil. In fact, it turns out Charlie Cox could indeed be reprising his role as the Man Without Fear much sooner than expected. You Marvel fans know the rumors surrounding the next Spider-Man movie? Yes, yes, Tobey Maguire and Andrew Garfield are most likely returning, but apparently, so is Charlie Cox. Now hold on, based on the rumors flying around the web, Charlie Cox will appear in the movie, but he won't suit up as Daredevil. The best we'll see of Charlie Cox's Daredevil is just him as the unassuming blind lawyer, Matt Murdock. Guess who he'll be representing? Oh, just a desperate and exposed Peter Parker accused of murdering Mysterio. With his identity out and video footage of him at the scene of the crime, Peter is going to need a seriously good lawyer who will believe him. With Matt Murdock's ability to hear anyone's heartbeat, he'll quickly know that Peter is innocent. That sounds like something he could fit into, but as of now, nothing is confirmed. I want it to happen and I think many fans feel the same. These may be rumors, but Charlie Cox has been denying them. Well, in a manner of speaking. Recently, Charlie Cox was at a MCM Comic-Con in London with the other Daredevil cast members and was asked if he was going to be in Spider-Man: No Way Home. He didn't really confirm or deny if the rumors were true, but he did throw in a rather curious comment about it.
According to Charlie Cox, he once again claims that he wasn't sure about Daredevil's return in the MCU. However, he did say that if the blind hero did return, it would be a more reimagined version of the character. In other words, he won't be the same Daredevil we saw him as in the Netflix series. There are several ways to interpret this. For one, if he really didn't know that he was in the next Spider-Man, then why would he say the new Daredevil would be a reimagined version? Did he just imply that he knows more than he's letting on? I think that's more than likely. But what exactly does he mean when he says a reimagined version? Well, he elaborated a little further by saying the new version will keep the foundations laid by the Netflix version. So the MCU Daredevil could keep the same backstory and civilian life that the Netflix version has. But as far as everything he did in the Netflix show? If Charlie Cox is returning, then we might have to forget about most of the things he did in all three seasons of the show. Yeah, that's kind of lame, but on the upside, at least we'll be seeing Charlie Cox reprise the role again. I think a fresh start under the actual MCU banner is a good thing for Daredevil. My biggest disappointment was that we didn't get to see more of the Bullseye stuff. Hey, maybe that can carry on in a Daredevil movie? We loved that show, but if we can at least get the actor back, then I'd say that's a win for all of us.
Tell us what's wrong with this post? How could we improve it? :)
Let us improve this post!