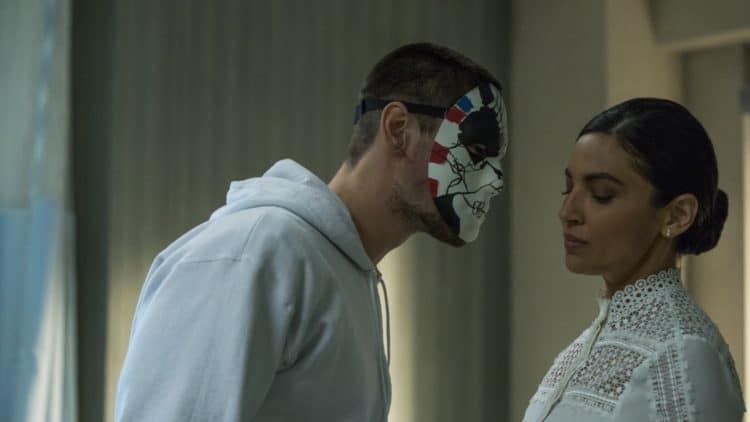 Floriana Lima is a TV actress without a doubt, as this seems to be where she's found her niche and where she's the most comfortable. It seems like more and more those that stick to TV are doing so because it's slightly less stress and the work is usually pretty constant so long as the show you're on continues and your part doesn't get the ax for some reason. Seeing as how she's contributed in her own way to each show she's been on it's not much of a surprise why she's been kept around for a while on some of them. She's done her part as a guest star too, particularly when she was first starting out, but as time went on she began to take on bigger roles that allowed her to stretch her acting talents a little more. With each new gig she managed to get a little better until at this point she's one of the more skilled veterans in TV. While she didn't start her career until 2008 it doesn't matter since she's been progressively showing up here and there in parts that allow her to diversify and to show that she can do more than just guest star on a show.
Here are some of her best roles to prove that point.
5. Lethal Weapon – Miranda Riggs
The part of Riggs' wife had to go to someone that could create a character that would go a long way towards explaining why he'd gone so nuts by the time he met Murtaugh. Of course the Riggs in the show kind of didn't measure up to the one in the movie but at the very least Floriana gave a great performance that made people understand just what would motivate a man like Riggs to go absolutely insane once he'd lost her. The dynamic between the two of them has been known since the movies to be something that was so decidedly strong that Riggs contemplated suicide more than once, but usually put that kind of manic energy into his job in an effort to get rid of it.
4. The Punisher – Krista Dumont
Anyone trying to get into the Punisher's head would be in for a long and torturous ride no doubt, especially this current incarnation. But this is what Floriana's character was tasked with when she was cast for the show. The kind of therapy that Frank Castle would need doesn't seem to exist, but the idea that anyone could reach him would be something to see. This version of the Punisher has so far done a lot more justice to the character, so it's worth seeing if she has what it takes to match up to John Bernthal and whether or not she can follow that kind of talent. Something seems to indicate that she'll be more than a match.
3. Supergirl – Maggie Sawyer
The idea of having same sex relationships in the CW and in the DC universe is becoming more of a thing every day and Maggie and Alex seem to be of the mind that it's just too tough to stay away no matter the hurt that's been heaped up between them. Of course Maggie hasn't exactly had that easy of a life since she was outed when she was very young and then driven to the side of the road and left. Even considering the time period in which the character had to live through this you can only think that this was harsh and quite detrimental to her initial upbringing.
2. The Family – Bridey Cruz
Bridey was, for lack of a better description, a horrible human being. She would go to any lengths she needed to in order to get a story and then had the audacity to feel slighted when she was the one being tricked finally. That seems to happen however when someone plays games with people and then gets outplayed. But the character of Bridey was truly despicable even despite the fact that she was doing her job as a journalist and trying to get the scoop on whether or not a young man that had returned home after having been missing for a decade was in fact the man that he said he was. The character of Bridey was found dead shortly before the show was cancelled, and the story lines of every character were simply left hanging.
1. Terminator: The Sarah Connors Chronicles – Franny
This was her first TV role and as a result it wasn't a big one but it was what got her started. When you realize that the girl that tells Franny's friend that she does indeed look fat is a terminator then you start to wonder what Franny might have said if she knew. Of course, terminators weren't supposed to exist in that time so it stands to reason that there would never be any way she could know, so being a stuck up young high schooler would have been the natural way to act.
She's been getting better with each role she takes.
Tell us what's wrong with this post? How could we improve it? :)
Let us improve this post!