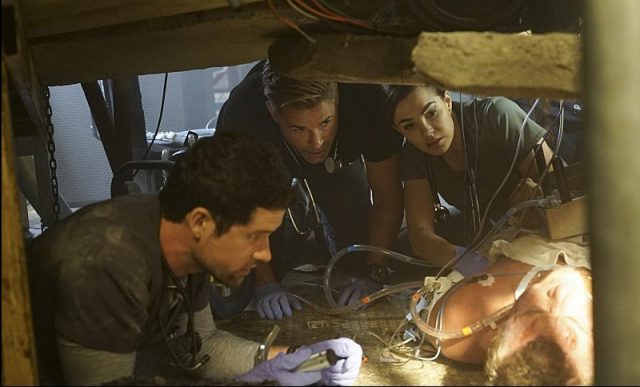 Tonight on Code Black features Colonel Ethan Willis (Rob Lowe), the newly appointed head of O.R. and E.R., Dr. Will Campbell (Boris Kodjoe ), 2nd year Dr. Angus Leighton (Harry Ford), 2nd year Dr. Mario Savetti (Benjamin Hollingsworth), and 2nd year surgeon Dr. Heather Pinkley (Jillian Murray). Judging from this CBS press release, it looks like part of this episode will be like the clash of the titans!
"Corporeal Form" — Willis defies Campbell's orders when he helps Mario and Heather perform a radical procedure on a maintenance worker stuck under a boiler that exploded. Also, Angus' father, Dr. Desmond Leighton (Steven Culp), tries to seize Power of Attorney over Mike, who is still in a coma, even though Mike granted that right to his brother, Angus, on CODE BLACK, Wednesday, Oct. 12 (10:00-11:00 PM, ET/PT), on the CBS Television Network. Kathleen Rose Perkins guest stars as psychiatrist Dr. Amanda Nolan.
Tonight on Code Black: Sneak Peeks
Here's a sneak peek of the first clash:
[youtube https://www.youtube.com/watch?v=2W6Uuu56n48?rel=0]
I'd like to think Heather is concerned more about the patient and less about being part of a ground-breaking procedure. Wouldn't you? As for Ethan, his thinking is very much what you'd expect from a military doctor…or someone used to working in a "code black" situation.
On the other hand, Campbell, he's always been about protecting his *ss. In no way is he going to sign off on something with so little chance of success. That's one of the things that makes him a bad fit for an E.R. doctor. There's little time to make things neat in an E.R. environment and Campbell likes to be neat and in control.
I'm sure the head of residency program, Dr. Leanne Rorish (Marcia Gay Harden) will be weighing in on the side of Ethan. This is the kind of thing she would definitely try. (In fact, she kind of did last season. Remember the whole, "kill him to save him" storyline?)
This second sneak peek has Mario interacting with Dr. Noa Kean (Emily Tyra) – not Heather.
[youtube https://www.youtube.com/watch?v=kYnTWPa8B00?rel=0]
These are the kind of intricate medical scenes that make Code Black thrilling! The uniqueness is in the details. Other medical shows have catastrophic events – and show them – but not so much the procedures entailed in treating them. Also, I like that Noa's got a bit of a tomboy vibe. There may be hope for Dr. Malaya Pineda (Melanie Chandra) to have someone to hang out with besides Angus….
Finally, if you were wondering about where the title comes from, it likely has something to do with this storyline:
[youtube https://www.youtube.com/watch?v=tUuqLZOzw9s?rel=0]

Obviously, this will be the comic relief for episode. This is good! Having Lowe working with Luis Guzmán as head nurse Jesse "Mama" Sallander should be fun to watch. Between the heavy-duty action of the explosion, the high-running tensions between Ethan and Campbell, not to mention between Angus and his dad, viewers will need some light-hearted moments!
Code Black, "Corporeal Form" airs tonight, Wednesday, Oct. 12 (10:00-11:00 PM, ET/PT) on CBS.
Tell us what's wrong with this post? How could we improve it? :)
Let us improve this post!