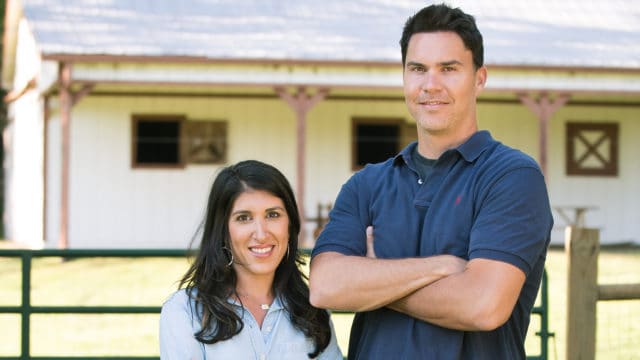 The latest addition to the very popular HGTV lineup of shows is called Flip or Flop Atlanta. Now, you may have heard about the original Flip or Flop, which is hosted by Tarek and Christina El Moussa. Well, that show became so popular with the viewing public that it actually spawned a bunch of new ones, namely Flip or Flop Las Vegas and now Flip or Flop Atlanta, which is hosted by Ken and Anita Corsini and premiered on 7/20/17. Soon to come are also a few other Flip or Flop shows from Fort Worth to Chicago, and even Nashville.
So, what do we know about Anita and Ken? Here are just a few of the interesting things about HGTV's latest Flip or Flop stars:
Love at First Sight
Well, for starters, they've been married for 17 years and are still very much in love. They say it was love at first sight when they met in college and that they bonded over a mutual appreciation for just plain goofing off. Well, they're not goofing off anymore. Instead, they're hard at work on both their flipping business and their new TV show.
Flipping in a Competitive Market
Their flipping business is in Atlanta, which is one of the country's most competitive housing markets. It is a serious collaboration between the two, who are both very talented in their own right. Just like the original Flip or Flop, Ken handles the real estate end of things and Anita is the designer in the family. Ken doesn't get to make any more major design decisions ever since he made one back in 2010 that his crew will never let him forget. It involved the exterior paint color on a flip house and the green color that he chose resulted in it being called the "Kermit House".
A Busy Family
Once a high school math and AP Calculus teacher, Anita attended classes while pregnant to get her real estate license like her hubby. Now, with two real estate licenses under their belts, the team is flipping houses all over Atlanta and making a big splash in the flipping game, flipping 100 houses per year. It just goes to show you that two heads are better than one.
Home is Where the Heart Is
The Corsini home, which they purchased in 2011, is constantly undergoing some kind of upgrade or major change. And, according to Ken, the house has an odd flow but they love it for the acreage, privacy, and sheer square footage, adding that those features definitely make up for the odd flow. It's also on a private lake, giving it a spectacular outdoor feeling.
Some Interesting Flip Finds
Among the many unusual items that Ken and Anita have found during their flips are things like mannequin heads and even a huge stuffed Canadian goose that now hangs in their warehouse. And, while filming the show, Ken found a trunkful of memorabilia that had belonged to a former student of Anita's. They happily reunited the young man with all of his memories so that he could share them with his new wife.
So, now that you know a little bit about the stars of Flip or Flop Atlanta, tune in on Thursdays at 9/8c to catch all the flipping action!
Tell us what's wrong with this post? How could we improve it? :)
Let us improve this post!