This week's two-part Flash vs. Arrow showdown did something rather amazing. It set a ratings record for Arrow in its 54th episode, as the crossover was the most viewed episode since the initial pilot of the show.
Needless to say, they're going to be doing this again.
The respective episodes of The Flash and Arrow that made up the crossover were the most entertaining and engaging that either series has given us in quite a while, showing that this new mini-DC universe that's been created between the two shows can be pretty much as compelling as the grand multi-film Marvel Cinematic Universe, albeit without A-listers and $200M in special effects.
After the episodes aired, I joked that they should just combine the shows from here on out, and air 40 odd episodes a year. The event was so fantastic, that you really don't want to see the two characters go back to existing separately.
What's clear with these ratings is that they won't, and there will be more crossovers planned, obviously. But how many?
The running theory is that there will be at least one per season, as seems to be the rule with other CW shows like The Originals/The Vampire Diaries. And yet, I'm not sure that's enough. With two episodes out of forty plus per year for both shows, that's only 5% of the season devoted to a Flash/Arrow team-up. I just don't think that's enough, and the way shows are currently split into two half-seasons because of winter break brings the opportunity to double that, if you ask me.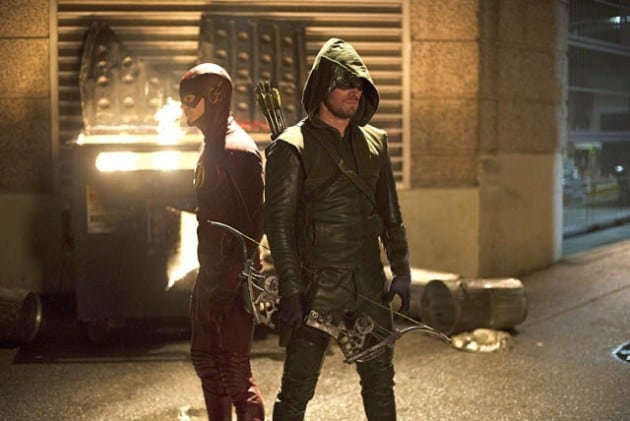 With two crossovers a year, that would give fans the dose of Oliver/Barry combo they want, yet it wouldn't overload the season with crossover content to the point where it's no longer a special event. Then that would be 10% of the year devoted to team-ups, while the other 90% can allow the show to exist as normal and pursue its own plotlines. Though again, those could be woven into crossovers as well, like what we've seen here.
Future crossovers can't play out exactly like the one we just saw. I think the "vs." part of the equation will have to be dropped, as there simply isn't going to be a reason for Arrow to outright fight The Flash every time, as you can only pull the "bad guy hypnotizes hero to become villain" card so many times (Smallville did this with Red Kryptonite like a million times, I suppose). The same goes for setting one episode in Starling and one in Central City, as sometimes both eps will have to probably pick one or the other, or a third neutral location (Oliver's Island? Metropolis? Gotham?).
Still, I think all of this is very doable, and will yield some great episodes.
But past future Arrow/Flash team-ups, I really look forward to seeing the show swap characters more. Felicity has already jumped over between shows ahead of this fully-fledged crossover, and the banter we saw between all the team members this week was the highlight of the episode. I'd love to see Cisco come back to Starling even by himself, or have Oliver send Roy to Central where maybe he strikes up a little thing with Caitlin. Villains could make the jump too (and already have with Tockman), and I really think DC has hit a home run here with this little mini-universe. Add in the coming Supergirl show, get Wonder Woman off the ground at long last, and this is going to be the most compelling web of shows on TV. There's just nothing else like it, other than perhaps Marvel's upcoming four-pronged Netflix series plan.
Arrow and The Flash may be two of the best shows on TV right now separately, but together, there isn't much that can match them in terms of pure entertainment value. I'm glad their combination was such a success, and I already can't wait until the next time we see them together. If my predictions are correct, we won't have to wait an entire year for that to happen.
What do you think? How often should Arrow and The Flash cross over into each other's shows?
[Photos via CW]