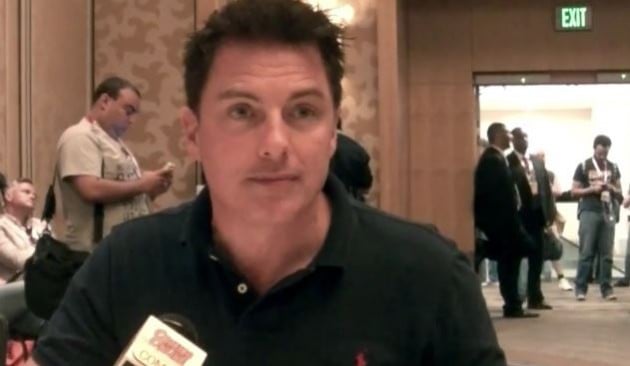 One of the biggest shows on The CW and one of the most important series in the comic book television genre right now is Arrow. As you may have seen at last week's San Diego Comic-Con, the upcoming fourth season of Arrow is going to be a brighter and different year for the show, as Oliver begins his transition from the Arrow into the Green Arrow. Oliver's main nemesis since the beginning of the series has been Malcom Merlyn (played by John Barrowman), who he had to turn to for help in Season 3 in order to take down Ra's al Ghul, but at a huge cost as Malcolm the next Ra's.
TVOvermind was fortunate enough to participate in the Arrow Press Room at San Diego Comic-Con with other news outlets at roundtables, where stars and producers from the show discussed what is coming up in Season 4. Barrowman was one of the people we got to talk to, and you watch the entire interview with him below. Here are some highlights:
When asked if carrying the responsibility as the new Ra's, will overwhelm Malcolm: "Never! [Shows his Ra's al Ghul ring.] Nobody has seen it. I had them make it for me, and it's the actual ring, and I had them make me one because I just thought it would be fun to wear it in real life. I am the Demon's Head! Nothing will ever overwhelm me! I just thought it would be fun to see fans [react to it]. One fan spotted it and he was like, 'Oh my God, you really are him!' He did kneel! He got right down on his knee.
I don't think Malcolm will be overwhelmed. I think what is going to be interesting for Malcolm is to see how he deals with the upset that is already around him because is he going to let the League [of Assassins] help Team Oliver? Because Team Oliver welcomed Malcolm in, not warmly, but welcomed him into facilitate in the deal that he and Oliver had. Oliver and Malcolm have kind of a, I call it, earthquake-y trust in one and another. Frenemies [when given the suggested term], very good word I like it! They would still kill each other, Oliver has said it, but I think Malcolm — and this is how and why fans have grown to love Malcolm — for some reason, my Malcolm has a soft spot for all of them.
Whether it's because they were friends of Tommy's, or whether it's because he loves Oliver like a son that he always wanted, or because he was training his daughter to go into the team and become who she is now, there is a soft spot. He would kill someone if he had to, but he will help them. He is not that much of an a**. But how they feel for him has clearly been spelled out. It was Laurel who said it when in the last big battle Malcolm saved her, she turned to him and said 'Thank you, but I wouldn't have done it for you.' Okay, I know where I stand, right? I got to watch my own back, I got to protect myself, but I'm happy to watch over everybody else."
Arrow Season 4 begins on Wednesday, Oct. 7, at 8 p.m. on The CW. Stay tuned for more roundtable videos of the cast and producers in the next few days right here at TVOvermind.
[Photo via YouTube]