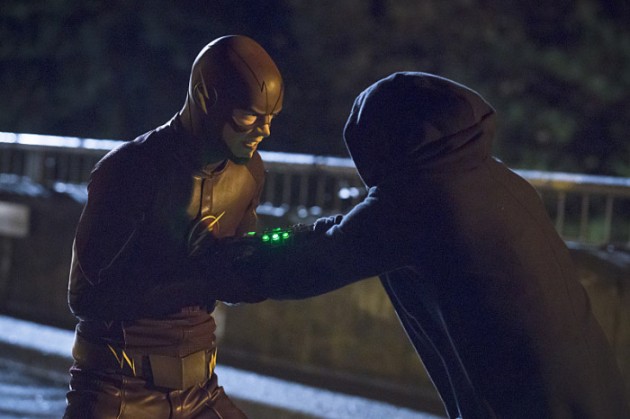 This week on The CW's hit series The Flash, we got introduced to another famous Flash villain and Rogue member, Hartley Rathaway, a.k.a. Pied Piper (guest star Andy Mientus), who had his eyes on getting revenge against Dr. Harrison Wells (Tom Cavanagh).
I've been anticipating the arrival of the Pied Piper and have been curious to see how the show would adapt this particular Flash villain ever since early reports last year that he was going to be featured as early as in the pilot. Whatever those plans were, we might never know, but one thing I do know is that the show's version of Piper was incredibly entertaining. Mientus did a terrific job bringing this character to life, a character that could be described as "Harry Potter if he was evil," according to the show's producers.
The only concern I had in advanced was that Rathaway would come off as too annoying or too cocky, but luckily he showed a lot of humanity as someone that was genuinely hurt and furious over being betrayed by Harrison. Speaking of the devil, this episode did something that I think Harrison has had coming for a while: it made him face some real consequences for his actions. It was hard to actually sympathize with Harrison because of his constant lying to his team and other people, so seeing someone like Piper, who was deeply a part of the particle accelerator project, come after him was good. It's important to have even the most powerful characters face some consequences for things that he or she has done in the past; otherwise, it will feel like there are no obstacles for anyone whenever they do something like that.
We get flashbacks to when Cisco first started working at STAR Labs, as he got to know Caitlin and had this rivalry with Hartley. One thing that Arrow does so well is flashbacks so it's always cool to see flashbacks on The Flash, too, whether they have Barry in them or not. As cool as it was to see The Flash go up against Hartley, I can actually see this character being a good villain for Cisco when/if he becomes Vibe one day on the show. Plus, his sonicwave weaponry does, in a way, resemble how Vibe's powers look like in the comics, just a bit scaled down. If I had one criticism about this character's presence in the episode, it would be that final battle at the end that wasn't bad per say, but not one of the more enjoyable fights that we've gotten on The Flash so far.
I do appreciate them not making a big deal about Hartley's sexuality and that it was something that was touched upon casually. As someone who is part of the LGBT community, I'm finding it much more satisfying whenever shows these days deals with a character's sexuality as just a normal thing and don't make a "big thing" about it. I do wonder though if there will be any time in this show when they will have Hartley hook-up with Captain Singh, who in the comic books does have a relationship with him. I guess as long as Singh is still with his current boyfriend that it might not happen for a while.
We see Iris in a new chapter of her journalistic journey as she gets hired by Central City Picture News, but things don't go as well as she had hoped. She learns quickly that she was only hired by the editor because he wanted her to cover as much of The Flash as possible due to her blog. Not only that, but she is also assigned to work with a famous reporter named Mason Bridge (Roger Howarth) that doesn't want to work with a newbie. While I do hate that she is faced with so many obstacles, this is a good thing to have as you are telling Iris's origin story of how she will get to place of being a well-known reporter one day. The thing she did at the press conference where she basically showed Mason that she is more than just a Flash blogger was fantastic.
Last but definitely not the least: let's talk about the latest Harrison Wells' post-credit scene, where he mentions the Speed Force for the first time in the series. It should also be pointed out that earlier in the episode we do see him use super speed for the first time, but that there seems to be a huge catch to it as it appears that it comes and goes. As for someone who has been thinking that Harrison is in fact Hunter Zolomon, that was a big twist and makes me wonder if they are giving us a new take on Hunter. The scene overall was a huge surprise, and it does continue to set up what will be a huge showdown between The Flash and the Reverse-Flash, because sooner or later, Barry is going to find out.
Overall, aside from the somewhat lackluster battle at the end, "The Sound and the Fury" was a pretty solid episode with a proper introduction to the Pied Piper who will be back next week. Mientus was a lot of fun to watch and someone that I hope to see more of after next week. Harrison continues to be one of the show's best characters, due to the strong performance of Tom Cavanagh, and even though he is great in most episodes, last night was truly one of his best ones.
The Flash airs on Tuesday nights, 8/7c on The CW.
[Photo via The CW]