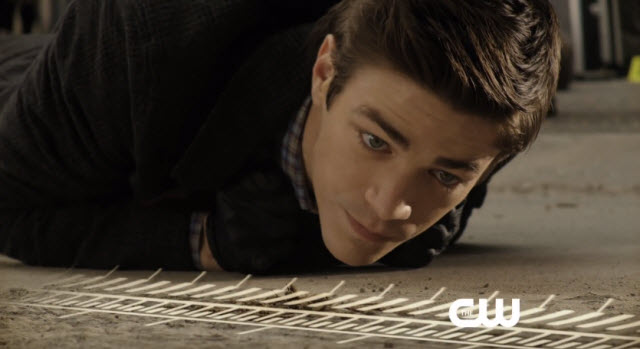 One of the most anticipated shows of the 2014-2015 Season has been CW's The Flash, the spin-off from Arrow that was announced last fall. I was lucky to see the pilot at this year's San Diego Comic-Con so I have been sitting on these thoughts ever since July.
This is a show that I have been waiting for ever since they announced the spin-off last fall and after seeing the two Arrow episodes that Grant Gustin did, I was even more stoked for a Flash TV show. For this TV season, I only had a limited number of shows that I was excited about and this show was definitely one of them. This pilot achieves everything that a pilot should do on every level.
After seeing this pilot, I was even happier with the casting of Gustin as Barry Allen aka The Flash. Gustin captures everything that we have seen of Barry/Flash in the comic books, he is charming, smart, funny and heroic. Even though there was some criticism of his age at first when he was cast last year, I think it's a key factor why he works so well as Flash. This is someone that I want to follow every week because of the reasons I mentioned above. It's been a while since we got such a bright superhero (with no offense to Stephen Amell's Green Arrow) and as a TV lover as well as a comic book nerd, it makes me excited and happy to see this.
The scene with Reverse-Flash in the flashbacks was just one of many Easter Eggs and it actually succeeds Arrow's pilot when it comes to amount of nods. My favorite was definitely the Gorilla Grodd Easter Egg because can you imagine how cool it's going to be to see a talking and ultra-smart gorilla going up against a superhero? I can't wait to see how they portray him on the show.
The villain of the week is a huge Flash villain as we meet Weather Wizard (Chad Rook) and even though I wanted to spend more time with this character, he was a great choice as Barry's first villain to go up against. Something that needs to be said about the great visuals of the show is that this pilot felt and looked like a movie, especially with Barry's running and Clyde's weather effects.
"City of Heroes" sets up each character of the show in a very nice way and each one of them has their own personality and tone which makes you fall in love with all of them. While we don't get to spend a lot of time with people like Eddie Thawne (Rick Cosnett) and Henry Allen (John Wesley Shipp), you still get a good taste of everyone.
One of my personal new characters in the show is Candice Patton's Iris West who brings so much warmth and charm to the show. She is a strong and fun female character and seeing someone as talented as Patton taking on a role like Iris is so refreshing and one of the reasons why I love TV. Her relationship with Barry is slightly different from the comics since he has lived with her and her father since childhood after his mother was murdered. I was initially surprised that she was actually in a relationship with Eddie, but what would a CW show be without a triangle (I mean this in every good way that I can).
Jesse L. Martin is a legend and seeing him join the show as Joe West was phenomenal and I think the biggest surprise about his character was that he learned early on that Barry is The Flash. The only ones that don't know Barry's secret are Iris and Eddie and I though at least half of the characters on the show wouldn't find out until later in the season.
The team that Barry has around him is great and different from Team Arrow which I enjoy because even though the shows will have similar structures, it's the tones that will set them apart, for good reasons. Cisco (Carlos Valdes) is someone I can really relate to as he is the fanboy of the group and Valdes brings a lot of the elements that I have seen of Cisco in the comics. Danielle Panabaker's Caitlin Snow was nice to follow and you could feel her pain since she lost her fiancé in the particle accelerator accident.
I do hope to see Caitlin warm up a little bit and that is something that we have heard she will do in upcoming episodes. Then there is Dr. Harrison Wells (Tom Cavanagh) who is one of the biggest question marks of the show right now after that finale scene where it's revealed that he can walk. In addition, we learn that he has access to information in the future. What is he really, a mentor for Barry or someone that could potentially hurt him? Could he be Reverse-Flash? Those are my questions, but from what I saw in this episode, Cavanagh is amazing in the role.
To start wrapping our thoughts up, one of the most iconic scenes in the episode was when Barry went to see his dad in prison. We learn so much what happened after Henry was put in jail and it is one heck of an emotional scene to watch. It's such an honor to have the original Flash being part of this new incarnation.
Overall, The Flash pilot wins as this year's best new drama for me as it sets up another cool mythology and universe (which is connected with Arrow) with a rich cast of characters who have phenomenal actors portraying them. David Nutter (the king of pilots) has given birth to another legend as his directing for the pilot was outstanding. Having writers/show-runners like Andrew Kreisberg, Greg Berlanti and Geoff Johns, made this first chapter of the fastest man alive, the best pilot of 2014.
The Flash airs on Tuesday nights, 8/7c on The CW.
[Photo via The CW]
Tell us what's wrong with this post? How could we improve it? :)
Let us improve this post!