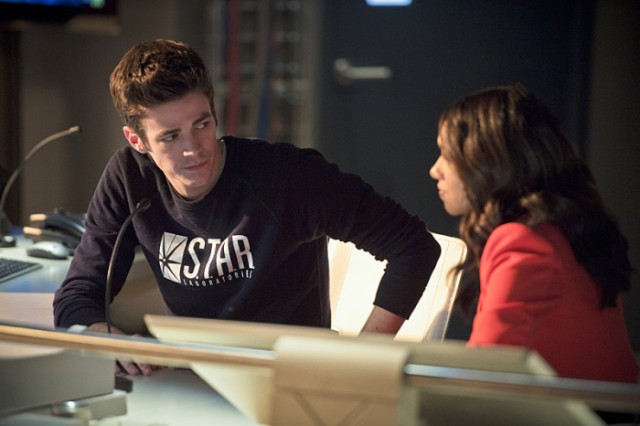 As The Flash gets ready for its big crossover event with its fellow DC/CW shows, this week's episode dealt with Barry's psychological struggle after being defeated by Zoom. Additionally, Gorilla Grodd returns to Central City and goes after Caitlin, but for an unexpected reason.
The writers gave Grodd an incredible — and shocking — vulnerability by having him not just being the villainous monster from last season. As someone who is one-of-a-kind, Grodd is lonely and wanted Caitlin to give him more gorillas like him, which is not what one would have initially expected when hearing that Caitlin would be kidnapped by him. The way the confrontation towards Grodd was handled, with Harry having to suit up as Reverse-Flash, aka Grodd's "father," was neat as well as humorous, as Harry had to channel his inner Eobard.
Eventually, Team Flash defeats Grodd by sucking him into a dimensional breach that takes him to a jungle that had been experimented upon in Earth-2, and this is, without a doubtm the introduction of the famous Gorilla City from the comic books, where there are several super-intelligent gorillas, along with Grodd. The bigger question now is, how will it play into The Flash moving forward as Grodd will probably not be showing up for a good time? While it might be expensive from a VFX standpoint, this could be something that could be used as a main arc for the third season of the series, or maybe at least as a half season arc, because if we'd get multiple gorillas on the show, it would probably cost a lot to visually create them. But with the ratings that The Flash pulls in, it wouldn't be unrealistic to see The CW be willing to supply the show with a boosted budget for at least a good eight-nine episodes worth of a Gorilla City storyline.
"Gorilla Warfare" also gives the viewers a much better look at Legends of Tomorrow character Kendra Saunders, as she kicks off her romance with Cisco, who gets all sorts of vibes when he touches her. While it was quick, it was great to finally get to see the wings of Hawkgirl, as photos of Ciara Renée in the costume has been wingless so far because of them being CGI. The complete look is breath-taking and gets you even more excited for the upcoming crossover episodes, where she will become Hawkgirl. Although it will be sad to see this cute romance having to come to an early end, but with Hawkman around the corner, Cisco won't have much of a choice.
Last, but not the least, it was both surprising as well as understandable that Barry's legs started healing very quickly in this episode, but luckily, overcoming the mental struggle was something that got a lot of good focus. This arc gave viewers the return of Henry Allen as Iris, with the big heart that she has, reaches out to him to give Barry some support. John Wesley Shipp and Grant Gustin continue to have incredibly emotional-charged scenes every time they share the screen together. However, something was slightly off with Henry, which was perhaps what the Flash writers were going for, because there is something mysterious about him right now. Maybe not Zoom-related, but something is there.
Overall, "Gorilla Warfare" was more enjoyable for its focus on Grodd and Cisco learning more about Kendra through his vibing as opposed to Barry's struggles with overcoming his fears of Zoom and his issues with Patty, who was questioning his honesty to her. Even though the two of them came to a resolution at the end, it's only a matter of time now before Patty finds out his secret. But that will have to wait, because Savage is coming, and the heroes of The CW's DC TV Universe are going to have to team up big time in two weeks.
The Flash returns with new episodes on Tuesday, Dec. 1, at 8/7c on The CW with Part 1 of the upcoming The Flash, Arrow, and DC's Legends of Tomorrow crossover, titled "Legends of Today."
[Photo credit: Cate Cameron/The CW]