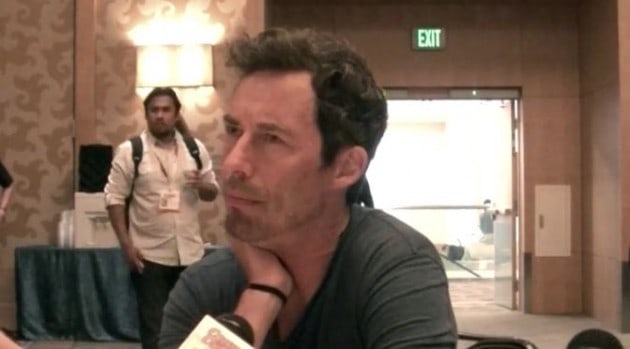 One of the biggest new shows from the past TV season is The CW's latest superhero hit The Flash, the story of Barry Allen (played by Grant Gustin) who becomes the fastest man alive. In Season 1, Barry established himself as a true hero, the guardian angel of Central City, which is filled with meta-humans and continues to offer new threats for him and his team to deal with in the upcoming season.
In the first season of The Flash, the show's big bad was none other than Eobard Thawne, a.k.a. the Reverse-Flash (played by Tom Cavanagh), who, under the disguise of Dr. Harrison Wells, caused a great deal of trouble for Barry, his team, and the entirety of Central City. TVOvermind was fortunate enough to participate in The Flash Press Room at San Diego Comic-Con with other news outlets at roundtables, where stars and producers from the show discussed what is coming up in Season 2. Cavanagh was one of the people we got to talk to, and you can watch his entire roundtable interview below. Here are some of the highlights:
When asked what he could actually tease about Harrison's mysterious new presence in Season 2: "I can tell you my starting point for agreeing to do the show. My starting point for this show has always been as Eobard Thawne, so that continues. I don't think that's vague at all; that's a starting point. Last year, I played four characters, and I approached every one of them from the starting point as Reverse-Flash, as a core. I think that will never change."
What is the most enjoyable part of playing multiple characters: "The most enjoyable part, and again the reason to sign on to this show, is putting on the suit. As a person, I like it. Our show has a tendency to get athletic, and when that happens, those are genuinely my favorite moments, I really like that."
Could a version of Harrison Wells come back without Reverse-Flash via time travel: "This is not to say that this is what we are doing, but when you ask that question, I know the episode [Episode 19, "Who is Harrison Wells?"] last year, I played that Wells. I played a version of that Wells, so I guess the short answer is that we have done it before. I see no reason we couldn't do it again. But I will also say, caveat to that being so much more enjoyable when there are these two levels working. 'See you later, Barry' takes on a whole new meaning. 'I will look for you later, Oliver' takes on a whole new meaning when there are those two levels in place so that's what I enjoy doing."
The Flash Season 2 begins on Tuesday, Oct.6, at 8 p.m. on The CW. Stay tuned for more roundtable videos of the cast and producers in the next few days right here at TVOvermind.
[Photo via YouTube]