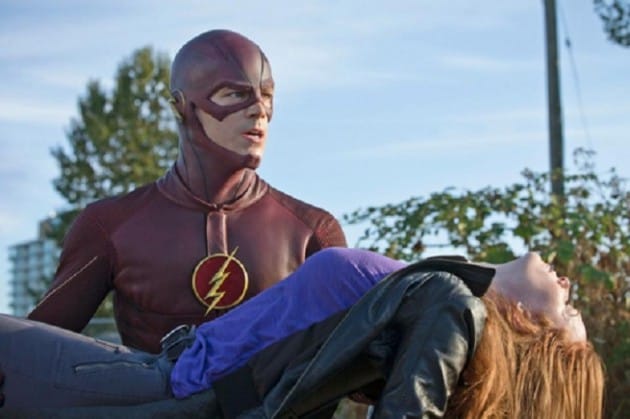 The Flash just finished episode five, and everyone still believes the show will a solid effort from The CW, and I've heard almost nothing but praise for it since its release.
Here's the thing though, while the Flash IS a good show, it's one that's almost entirely carried by the charisma of its cast, which makes them all very likeable. Their chemistry is the only reason the Flash stays afloat, because if you try to look at the actual plot? It's really quite…empty.
To date, we've been stuck in the "repeat the pilot six times" loop for new shows. In that case, that means Barry discovering he can push himself a littttle bit further with his speed powers each week, and he uses that knowledge to take down a metahuman bad guy of the week. So far he's taken on a guy who can control the weather, a guy who becomes smoke, a guy who replicates himself, and a guy who just steals a freeze ray. This week, they try to help one of them instead, a girl codenamed "Plastique" who, you guessed it, blows stuff up. It…doesn't go so well.
This is the basest superhero procedural formula you can get, and reminds me of Smallville's early days when every week a new Kryptonite-infected villain would try to take down Clark and cause havoc in some form or another.
Yes, there are larger, overarching plots, but those are pretty stock for the genre as well. A mentor will turn out to be a villain. A love interest has the truth hidden from her. And so on.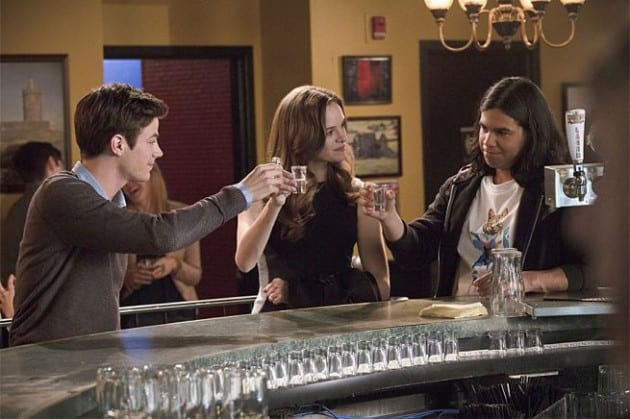 I'm curious as to how long this will go on. Eventually they'll run out of comic book villains to introduce, and the show will have to become less procedural, won't it? But the fact remains that even in this very, very stock format, the show works.
I really can't say enough about how great Grant Gustin is in the Barry Allen role. Like, I definitely think Stephen Amell has done a great job as Oliver Queen, but Gustin's performance as Allen is just so effortless and charming, and it creates a totally different dynamic for the Flash despite all the DNA it shares with Arrow. There's something about a hero who isn't a multimillionaire who can climb up a salmon ladder in his sleep.
Gustin is more Peter Parker than Oliver Queen or Bruce Wayne, and that's something we haven't seen really SINCE Clark Kent, average farmboy (though I bet he could do a salmon ladder to the moon if one existed).
Gustin is aided by an absolutely excellent supporting cast with absolutely no weak links to date. Usually a show has at least one (who isn't complaining about Laurel in Arrow or Fish Mooney in Gotham?), but The Flash? I can't name a single cast member, major or minor, who is underperforming. The group works as a cohesive unit, and I'm not sure I've ever seen a show with such a relatively dull plot that is still engaging because of cast chemistry alone. Usually that's something you only see in comedies where plot is a secondary concern, and the focus is all on the characters and the writing. But The Flash is doing the same thing in the form of a drama.
I have to believe that The Flash will someday grow a better plot. As I said, we are still in that "repeat the pilot six times" window that seems to be a rule with 90% of new shows these days. I would argue that Arrow didn't get REALLY good until season two, with its Deathstroke plotline that spanned the entire season. Sure, there were procedural episodes here and there, but until the show got a worthwhile villain, it never really found its groove.
I think The Flash can figure out a way to create an engaging overall storyline with its compelling cast, but it's too early in the lifespan of the show for them to have figured out how exactly they should do that already. With 22 episode seasons, you have a lot of time to spare, so you can kind of wander toward a solution rather than race to one, no pun intended.
[Photos via The CW]