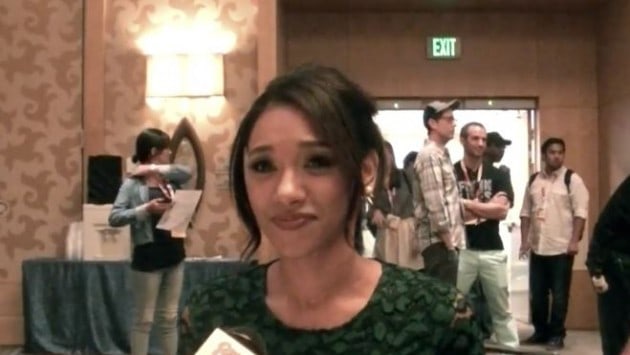 One of the biggest new shows from the past TV season is The CW's latest superhero hit The Flash, the story of Barry Allen (played by Grant Gustin) who becomes the fastest man alive. In Season 1, Barry established himself as a true hero, the guardian angel of Central City, which is filled with meta-humans and continues to offer new threats for him and his team to deal with in the upcoming season. One of Barry's greatest allies is the love of his life, Iris West (played by Candice Patton), a reporter for the Central City Picture News, who grew up with Barry as his best friend and is now one of the people who knows of Barry's secret as the scarlet speedster.
TVOvermind was fortunate enough to participate in The Flash Press Room at San Diego Comic-Con with other news outlets at roundtables, where stars and producers from the show discussed what is coming up in Season 2. Patton was one of the people we got to talk to, and you can watch her entire roundtable interview below. Here are some of the highlights:
When asked about what is the next step in Iris's journalistic journey in Season 2: "Andrew [Kreisberg, showrunner and executive producer] said explicitly to me that we are going to get to see Iris as the ace reporter that we kind of saw her to be in the comics. I'm excited about that. I think that is what people love about Iris, so I really hope that happens sooner rather than later."
Whether Iris is a full time member or not on Team Flash this season: "I don't know if I can say 'full-time' because she still got a job at the paper, but already we have started shooting and most of my scenes are in S.T.A.R. Labs. We are going to see her definitely be part of the Flash team, and I think that is going to be great see her offer her expertise to that team."
Might Iris get to take part in the physical action in season 2: "I think so. I was talking to Andrew the other day, and he was describing something crazy, and I was like, 'Yes, more of that!' I really do enjoy the fight choreography, and I want to do more of it. I think I was meant to be a superhero, but I will never be one!" [Laughs]
The Flash Season 2 begins on Tuesday, Oct.6, at 8 p.m. on The CW. Stay tuned for more roundtable videos of the cast and producers in the next few days right here at TVOvermind.
[Photo via YouTube]