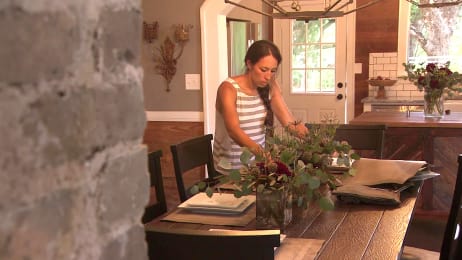 If you've ever gotten the urge to do a DIY project around the house, one of two things probably happened: you realized how east it is to do things on your own want want to try more projects in the future. Or, you failed miserably and never want to do it yourself again. If you're part of the second group, HGTV's Fix My Fail is the perfect show for you. As the name suggests, the show features failed DIY projects. However, experts will be stepping in to help transform these cautionary DIY tales into happy endings. Now in it's first season, Fix My Fail promises to offer viewers a chance to see how even the worst mistakes can be transformed. Keep reading for 10 things you didn't know about Fix My Fail.
1. Viewers Could Enter For A Chance To Win A Cash Prize
If Fix My Fail seems like your type of show, the good news is there's more in it for you than just entertainment. HGTV has launched a sweepstakes for Fix My Fail viewers that gives people the chance to win $2,000 to put towards a DIY project of their own.
2. The Show Will Be A Learning Experience
There are lots of shows focused on home repairs and renovations, but Fix My Fail has a bit of a teaching angle that sets the show apart from others like it. Even if you've never had a failed DIY project of your own, the show will help you gain an understanding of the types of things you'll definitely want to avoid in the future.
3. There Was A YouTube Show With The Same Name
Apparently, HGTV isn't the only one that realized a show centered around fixing fails could be a hint. There is a YouTube channel with the same name that was started in 2014. Whoever runs the channel hasn't uploaded a video in three years, but the channel has earned over 239,000 views. It doesn't appear that the YouTube channel is affiliated with the show in any way.
4. The Show Will Feature All Types Of Fails
Let's face it, there are dozens of DIY projects that can be done around the house. There are even more things that could go terribly wrong. Instead of just focusing on one kind of project, Fix My Fail will cover several different types of fails in different areas of the house.
5. The Network Is Still Taking Audition Tapes For The Show
Do you think one of your DIY projects has failed so badly that it needs professional help? Would you like the opportunity to get some? The good news is that HGTV appears to still be casting for the show. The network is interested in people who are willing to share their stories in exchange for some guidance from a design expert.
6. Viewers Will See A Lot Of The Boise Boys
HGTV fans are probably familiar with The Boise Boys. The show features Clint Robertson and Luke Caldwell, two friends who work together to flip houses in Boise, Idaho. The Boise Boys know a thing or two about making stellar transformations and they will also be sharing their expertise on Fix My Fail
7. The Show Is Produced By Glass Entertainment Group
Fix My Fail was produced by The Glass Entertainment Group which is also responsible for other shows on HGTV. The Glass Entertainment Group has produced dozens of shows for other networks as well such The Food Network, Oxygen, and Animal Planet. Some of the shows they have produced include Tanked, A Taste for Murder, and Fix This Yard.
8. It's Unclear How Many Episodes The Show Will Have
Fix My Fail isn't being as heavily promoted as some of the other shows on HGTV, so it's hard to find much information or know exactly how many episodes viewers can expect. Given the subject matter though, viewers are hoping that there will be plenty of fail fixes to come.
9. The Show Is About Positive Vibes
Having a DIY project that doesn't go as planned can be devastating, especially when you've invested lots of time and money into it. Not only does Fix My Fail, aim to make things right from an aesthetic standpoint, it also aims to put a positive spin on a bad situation.
10. The Show Appears To Be The Result Of Quarantine
The COVID-19 pandemic has resulted in most of us spending more time in the house than we could've ever imagined. In a lot of cases, this extra time at home has turned into DIY projects. It appears that Fix My Fail was created as a result. However, if the show is a success, it will likely continue.