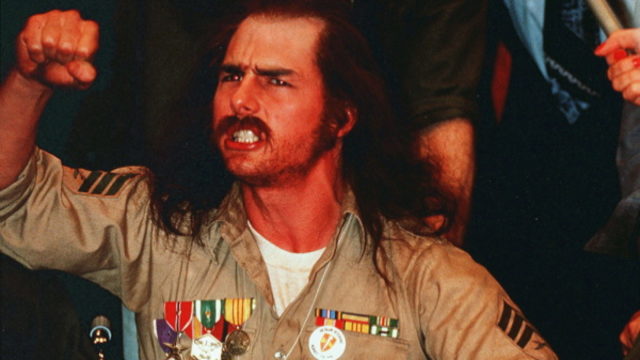 Tom Cruise is perhaps one of the most iconic movie stars in history. Not only have his films earned hundreds of millions of dollars at the box office, he has also managed to make his name synonymous with action movies. Very few actors have had the kind of cultural impact that Cruise has.
However, his impact is not only in the world of action. He has also starred in a number of critically acclaimed dramatic films. While many know him only for his heart-pounding stunts, Cruise is actually a very accomplished actor. Here are five of the best acting performances of his impressive career.
A Few Good Men
Naturally, the film that introduced the iconic line "You can't handle the truth," is one of the most powerful dramatic films of Cruise's career. In this film, he portrays an inexperienced Navy lawyer who begrudgingly takes the case of two Marines being tried for the murder of another Marine. The film was one of the first to show Cruise as a dramatic powerhouse. His performance received nearly universal acclaim from critics, especially for the tense scene in which his character points out inconsistencies in the testimony of Colonel Jessup (played by Jack Nicholson).
Born on the Fourth of July
Born on the Fourth of July was one of the most critically and commercially successful films of the 1980s. In it, Cruise portrays Ron Kovic, a Marine sergeant who serves in the Vietnam War. His performance was widely celebrated and led to his first nomination for an Academy Award. He also won the Golden Globe for Best Actor with this performance.
His heart-wrenching performance helped show the reality of war. His character suffered great emotional and physical pain, leaving him bound to a wheelchair and struggling with PTSD and alcoholism. It was a truly incredible performance that showed his ability to channel suffering and strength at the same time.
Rain Man
The highest-grossing film of 1988, Rain Man is an iconic film that remains relevant today. It received universal praise from critics, and won four Oscars. In the movie, Cruise portrays Charlie Babbitt, a selfish hustler who finds out that his inheritance was given to a brother he did not know existed. His brother is revealed to be an autistic savant, and the two go on a road trip during which they form a close bond.
While much of the praise given to the film was centered on Dustin Hoffman's performance as Raymond Babbitt, Cruise was also highlighted for his strong acting. This film was memorable and made a significant impact on how society viewed those with autism.
Magnolia
One of the most complex and unique movies on this list, Magnolia was one of Cruise's finest career performances. In it, he portrayed a boisterous salesman who peddles a course on picking up women. The film culminates in a series of incredible coincidences that lead the characters to find each other in surprising ways. While the film was largely well-received, Cruise was highlighted as its strongest part. For his performance, he picked up an Academy Award nomination and won the Golden Globe for Best Actor.
Jerry Maguire
While Cruise is best known for his work in action movies, Jerry Maguire remains one of his most iconic performances. In it, he portrays sports agent Jerry Maguire who wants to have a more personal relationship with the athletes he represents. The character undergoes a wide range of trials, from divorce to financial struggles. Ultimately, he is able to secure both his career and a relationship with the love of his life.
Perhaps more than any other film on this list, Jerry Maguire allowed Cruise to demonstrate his remarkable range. For his performance, he won the Golden Globe for Best Actor in a Musical or Comedy and was nominated for the Best Actor Oscar.
Final Thoughts
While Cruise may be the world's most iconic action star, he is also a highly accomplished and celebrated dramatic actor. After winning three Golden Globes and being nominated for three Academy Awards, it is clear that he can do much more than sprint and fight. Cruise's dramatic films have contributed to better understandings of serious issues like mental health and war while also providing riveting examples of love, strength, and perseverance.