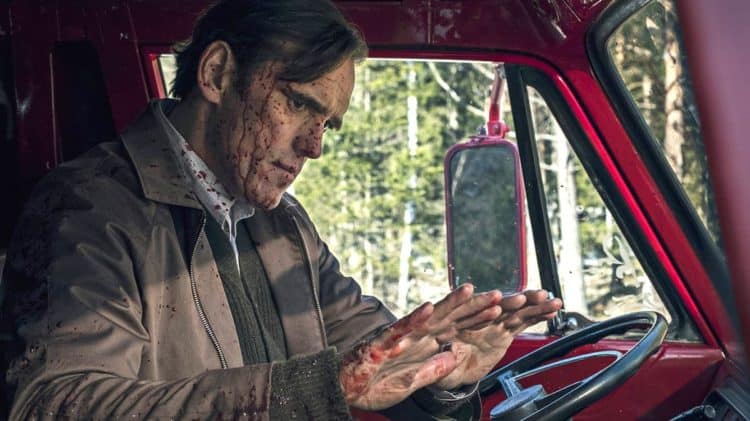 Are you tired of demons, magic, and superheroes? But super hyped about murder, zombies, and karate? Hulu offers a vast array of exciting movies that can get your heart pounding and your blood pumping. Let's check out the five underrated gems you should watch on the streaming service
1. The House That Jack Built
Lars Von Trier is not a filmmaker known for his "happy" movies. Enter The House That Jack Built, which follows Jack, an intelligent serial killer with OCD, over the span of twelve years, highlighting the murderer's most notable crimes that develop him into the psychotic madman who killed men, women, and children. The film is a fascinating character study on a protagonist who has no redeeming qualities whatsoever. However, Jack is never a boring character to follow, and the film's message about violence and its depiction of it will keep your eyes glued to the screen. This is a hard film to watch. If you're not into depressing stories then this isn't the movie for you, but, if you're into character-driven pieces that contain violence against innocent women, children, and ducks, then The House That Jack Built is definitely a must-see.
Rotten Tomatoes: 60%
Stars: Matt Dillion, Uma Thurman, Bruno Ganz
Director: Lars Von Trier
Rating: R
Runtime: 2h 31m
2. The Art of Self Defense
Riley Stearns is a filmmaker that movie fans should pay attention to. First, the newcomer wrote and directed the brilliant thriller Faults and his follow-up to that excellent debut is The Art of Self-Defense. The film follows timid bookkeeper Casey (Jesse Eisenberg), who decides to join his neighborhood karate studio after he's attacked by a motorcycle gang. The Art of Self-Defense tackles the topic of male masculinity and bumps it to the extreme in a very funny, thrilling, and poignant way. Don't go into this film expecting this to be the next John Wick; Yes, karate is displayed throughout the movie but it's hardly an action film looking to rival such as a franchise. The core cast is top-notch and the movie sticks with you even after the credits roll.
Rotten Tomatoes: 84%
Stars: Jesse Eisenberg, Alessandro Nivola, Imogen Poots
Director: Riley Stearns
Rating: R
Runtime: 1h 44m
3. Little Monsters
Who says you can't find love during a zombie invasion? Now, I know what you're thinking, "another zombie movie in a long list full of them"; however, Little Monsters does a strong job of separating itself from the special genre. What's great about the film is that it doesn't follow the formula of a typical zombie film does, so don't expect big guns, explosions, and a cool action quips. Little Monsters is about slacker and failed musician Dave, who accompanies his nephew on a class trip to impress the kindergarten teacher Miss Caroline; however, the two adults and kids show personality Teddy McGiggle must protect the young children from a sudden zombie outbreak. As expected, Lupita Nyong'o plays Miss Caroline to perfection: a loveable heroine who's very easy to root for; however, Alexander England is able to match Nyong'o's energy thanks to his performance as Dave. England's character development is fun to watch and his scenes before the zombie invasion are a laugh riot. Josh Gard plays his role well too, though you'll be rooting for him to be eaten by the zombies once the invasion begins.
Rotten Tomatoes: 79%
Stars: Lupita Nyong'o, Josh Gad, Alexander England
Director: Abe Forsythe
Rating: R
Runtime: 1h 34m
4. Hello, My Name is Doris
Aunt May gets her groove back in this silly romantic comedy. Hello, My Name is Doris is about Doris Miller, a sixty-something-year-old woman who finds a new meaning to life after meeting John and pursues her boss romantically despite the age gap between the two co-workers. Doris's journey throughout the film is brought to life thanks to Sally Field, who captures the out-of-touch, quirky, and loveable character to a tee. Greenfield and the supporting cast of characters help liven up the movie, with the other notable standouts being Tyne Daly's Roz and Beth Behr's Brooklyn. Charming, funny, and packed with a good message, Hello, My Name is Doris won't be the most innovative romantic comedy you'll see, but it certainly one of the best to come out in years.
Rotten Tomatoes: 85%
Stars: Sally Field, Max Greenfield, Beth Behr
Director: Michael Showaiter
Rating: R
Runtime: 1h 30m
5. Sorry To Bother You
Rapper-turned-filmmaker Boots Riley came out firing on all cylinders in his debut, Sorry To Bother You. This hybrid of comedy, fantasy, and sci-fi see Cassius Green discover the key to success in the world of telemarketing, propelling him into a universe of greed. Sorry To Bother You is an unpredictable ride from beginning to end. As the film goes deeper, the absurdity grows, though the message of the movie is never lost in translation. You'll root for Cassius because he starts out in a situation that we're all too familiar with; Every moment of happiness, sadness, confusion, and pain can be felt thanks to the strong character development. Sorry To Bother You also features a cast of colorful characters, with everyone playing their parts well. This is one of the most original and thought-provoking films to be released in the past couple of years.
Rotten Tomatoes: 93%
Stars: Lakeith Stanfield, Tessa Thompson, Jermain Fowler
Director: Boots Riley
Rating: R
Runtime: 1h 45m
Tell us what's wrong with this post? How could we improve it? :)
Let us improve this post!