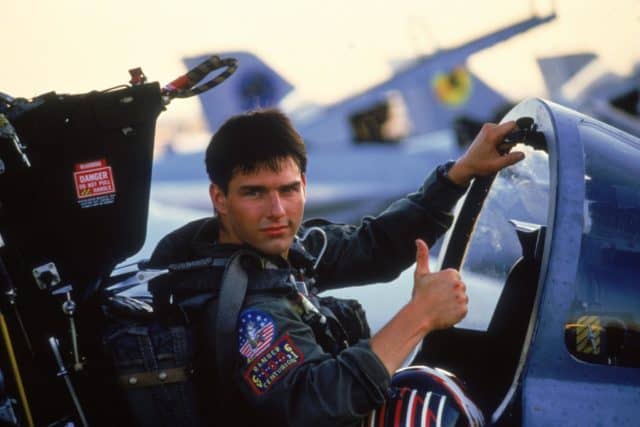 With another Top Gun movie supposed to be coming out eventually it's time to make a nostalgic run to the internet and see how many products we'd be crazy enough to buy. While shirts, jackets, and posters would be the normal order of the day there are a few other products that might make you think twice at least about passing them by. Some of them are just out of this world ridiculous while some are among those that real collectors would likely want for their wall or wherever they keep their movie memorabilia.
Some of it might not make sense but it's still kind of interesting what people will buy. These are all available at the Top Gun Store (yes, this is real)
5. Top Gun Cologne
If you're going to try to act like one of the guys from the movie you might want to splash on just a little of the good-smelling stuff in order to strut around and at least act macho so that people know you mean business. Of course if it's designed to smell like you just got out of the cockpit then it might not be a good idea. Chances are it smells just fine, but it's still kind of an odd thing to market for this movie.
4. Aviator Glasses
People couldn't get to these glasses fast enough when Top Gun came out and Tom Cruise made them even more popular. Anytime a star wears a certain item of clothing you can bet that there will be hundreds of fans wanting to purchase that same item for the sole reason that their idol made it look cool. That's an impressive bit of marketing but kind of an odd thing to do in the pursuit of being a free-thinking individual.
3. Military Jacket
So long as there aren't any fake patches on it this jacket should look pretty cool on a lot of people. It comes in big and tall to so that those who can't fit into regular sizes aren't left out. These jackets have been popular for a while before Top Gun but they made a comeback a few times thanks to movies and are still considered to be a very hot fashion. Nowadays they might not be considered to be as much of a must-have, but it's still a nice jacket.
If you're going to idolize Top Gun then this saying is a must since it's one of the best in the movie. Wearing it on a shirt might open some people up for a bit of ridicule unless they can back it up and talk about the movie at length, but it's still a fun shirt that some folks might appreciate. Top Gun was after all one of the best movies to come out in the opinion of many, and is still well thought of to this day.
This is another shirt that people would probably appreciate since besides being a jerk Iceman was still pretty cool. To be honest Maverick wasn't always the nicest guy either but they were both highly skilled at what they did.
Now all that's left is to wait for the next movie to come out.