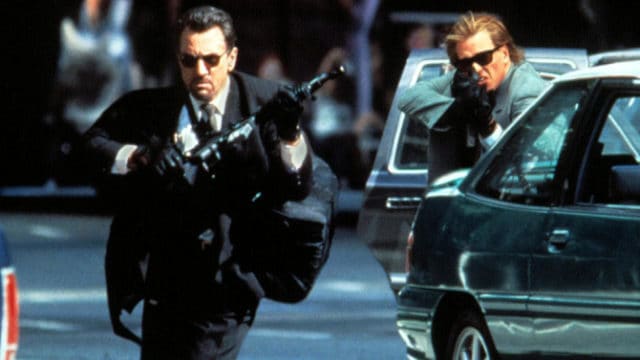 We all love a good bank robbery movie. There's plenty of action and the best ones have a great storyline. But to draw us in to the action, movies often require us to completely forget about the reality of a bank. What we mean is simple. The reality of robbing a bank is completely different in movies than it is in real life. Movies don't tend to, they DO over exaggerate a fairly large number of details involved in how banks operate.
To that end, here are five things movies get completely wrong about banks.
1. Bank security guards are rent-a-cops or just happy to have a job.
Not so fast. To be fair, movies made prior to 9/11 can get a pass on this one, but since then many banking customers want trained professionals at their local bank. So you will see everyone wearing the same uniform, but you can never be sure that a guard is an ex-SWAT team member or is not too removed from combat excursions from the war in Afghanistan. But a bank guard without a gun, if you can find one, is probably a rent-a-cop.
2. Sections of banks are air tight and soundproof.
In The Score, three armed guards are going down an elevator to the basement where the heist has just taken place. Jack (Ed Norton) confronts Nick (Robert DeNiro) and steals the scepter from him. In the process, Jack fires multiple times in Nick's direction to convince him he is serious. Elevators do not scrape the sides of the wall, and the gunshots would have been heard before the alarm went off.
3. Banks have lots of money to steal all the time.
According to the FBI, the typical bank robbery nets only a little over $4,000. If you do the math, that comes out to less than $2 an hour, based on a 2080 hour work year. You are better off working at McDonald's part time. And despite movies trying to time the heist, there can be times when things just go wrong: a late bank truck delivery, an early arrival for pickup, or the bank just having a busy day and not having much cash on hand at all.
4. The entire bank is robbed — every teller, every drawer.
According to an actual bank robber (now retired) the majority of bank robberies are performed on a single teller without a lot of fuss. He says tellers and bank employees in general are trained to comply with a bank robber's instructions because the average loss of about $5k is far less than the lawsuits that would be brought by customers and employees alike if shooting starts. The guns and violence are for added drama and excitement.
5. Your money in insured by the Federal government.
This line, often used to make the bad guys look less bad, is only partly true. Masked man Robert DeNiro tells his captive audience this half-truth. The feds (FDIC) do insure your deposits but what they do not tell you is when you will get your money. In the event of a run on a bank, as many countries have experienced, the bank does not have enough physical cash to allow everyone to withdraw their complete funds. Robbing a single bank may not cause this to happen, but remember Federal law only requires the bank to have reserves of 3% for checking accounts and 0% for savings accounts.
Tell us what's wrong with this post? How could we improve it? :)
Let us improve this post!