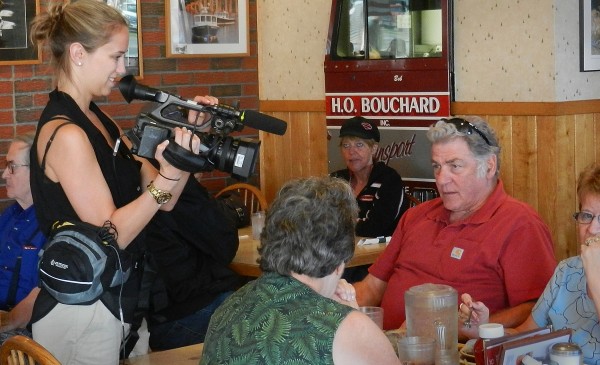 Since it can be found on the Travel Channel, it should come as no surprise to learn that Food Paradise covers a wide range of restaurants situated in a wide range of places. As a result, people who are interested in learning about some of the mouth-watering cuisines that can be served up to them, the series is well-worth watching in their spare time.
Here are five things that you may or may not have known about Food Paradise:
Produced by Ken Burns
Food Paradise is produced by Ken Burns, who has been involved with numerous series as either a director, a producer, a writer, or some combination of those roles. While more than one of his series can be found on the Travel Channel, it is interesting to note he has been involved with other series that can be found on channels ranging from A&E and Bravo to E!, History, and the National Geographic Channel.
Used to Be Narrated by Mason Pettit
Previously, Food Paradise was narrated by Mason Pettit, who is an actor in addition to his voice-over work. Besides Food Paradise, he might be best-known for his roles in Jack Goes Boating and You Don't Know Jack, which despite their names, are not actually connected to one another. The first is about how a limo driver's blind date leads to a rather dramatic chain of events involving a pair of New York City couples, while the second is about Dr. Jack Kevorkian, who was famous for championing terminal patients' right to die.
Currently Narrated by Jesse Blaze Snider
Currently, Food Paradise is narrated by Jesse Blaze Snider. A lot of people might know Snider best for being the son of Dee Snider, who is the frontman of the rock band Twister Sister. However, it should be noted that Snider is active in a wide range of roles in his own right. Besides his voice-over work, he is a radio and TV host, a rock musician, and on multiple occasions, a comic book writer.
Each Episode Has a Theme
Each episode of Food Paradise has a theme that connects the restaurants chosen to show up in it. Something that should prove useful for people who want to learn more about restaurants serving up a particular kind of cuisine but might be less enthusiastic about coverage of other kinds of cuisine. For example, the first episode of Season 1 covered hamburgers, while other episodes in the same season covered foods such as barbecue, hot dogs, and ice cream. Of course, a lot of the themes are too broad to be covered in a single episode, which is why it is not unknown for previously used themes to make a return in future seasons.
Had Some Specials
Speaking of which, Food Paradise had some specials with special themes of their own. For example, the food that could be found at various state fairs situated throughout the United States was one of the specials that came up. Furthermore, there were specials that focused on Chinese food as well as London restaurants, which expanded the series's area of coverage.
Tell us what's wrong with this post? How could we improve it? :)
Let us improve this post!