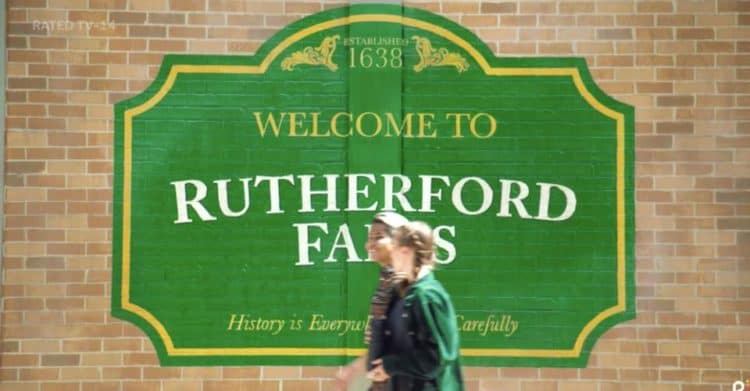 After watching this trailer it's important to remind yourself that the quote "This is why it's important not be friends with white people" (sorry if it's misquoted) is a joke and should be taken as such, but is still ironic since flipping that around would be seen as incredibly offensive. Anyway, moving past that little gaffe, the show does look kind of funny since if anyone has ever lived in a small town, and there are plenty of people out there, then they'll understand the small-town mentality and how it's not always the 'pull together' type of feeling that people might have thought was possible back in the days of Leave it to Beaver and various other shows. Nope, the small-town mentality these days is swiftly catching up with the big city and becoming every human being for themselves, especially in Rutherford Falls where it sounds as though Ed Helms' character will be doing his best to get people to care about their heritage when it comes to, dun dun dun, saving the statue of town's founder. It's easy enough to wonder if this show could be more socially-conscious, but then again, tempting fate and those that are bound to make a joke out of the matter might not be wise. But that's the thing, it's already looking like a funny show and one that might get more than just one group of people to laugh at the various jokes. Maybe that's what we need in our shows and movies at this time, a chance to insult and pander to both sides of the fence all at once in order to remind people that it's FICTION and that it can be anything from dramatic to funny and everything in-between.
The crack about having white people as friends, the issue with the cultural center, the preservation of a statue that no one appears to care about, a few subtle jokes about having a time machine to go back and change history, all of it is bound to cause many people on either side of any issue to bristle a bit, and it's great. Maybe angering everyone at the same time will have the effect of reminding them that life isn't perfect and that one way or another something will always be offensive to someone, so perhaps it's best to be offended and move on. Yeah, that's an ideal way to look at things, but it's not that real to be certain. People are simple in various ways, but not when it comes to being offended, at least not in the last several years.
Ed Helms is kind of a great personality to use for something like this since he can be serious, but his appearance kind of screams comedy since he's just that good at it. But when it comes to being somber he can button it up long enough to get his point across and make it clear that things aren't entirely humorous at the moment. Just looking at the trailer it does feel as though Rutherford Falls is the kind of place that might have, at one time, been a town where people knew each other, respected each other and didn't worry too much about anything unless it required more than a passing thought. But from the trailer, it would appear that the townsfolk are pretty much like anyone that's been introduced to the modern era one year at a time just like anyone else. There are bound to be those that are neurotic, those that are easily offended, and those that don't care too much about history unless it affects their delicate sensibilities directly. In other words, they appear to be just like anyone else in this day and age that wants to get their way but isn't always willing to work for it, even if they'll gladly whine and moan about the state of the world and how the past is so bad and disruptive to the present and possibly the future. And to think, a good chunk of this first season might revolve around a statue. That's kind of funny given all that's happened in the last several years.
It's easy to get the feeling that there are going to be plenty of jokes, digs, nods, and other comedic gestures throughout the first season as the writers will no doubt be seeking to poke and prod as much as they can at the audience in order to get a reaction. That's perfectly okay since they're not doing their job if they aren't looking for some way to get the audience to react in one way or another. Some folks are likely to say that it's offensive, others might just laugh and say that it's a mirror that some people don't want to look into. But it's bound to be fun all the same.