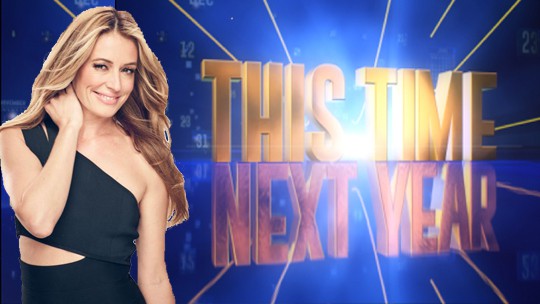 "This Time Next Year", a new Lifetime series, is hosted by Cat Deeley, an Emmy nominee who also hosts "So You Think You Can Dance". This is America's version of the UK hit show from Twofour. Each show will examine the unscripted transformations of six people who have committed themselves to making some type of extreme change in their lives. This inspirational series will follow the emotional journeys of these ordinary people who have embarked on the most challenging mission of their lives, to have a baby, lose weight, or even walk again. The challenges are all unique to the individuals. Here's 5 things you probably didn't know about This Time Next Year.
1. What seems like seconds to us, is a whole year for them and each show literally takes a year to film in completion.
The way it is filmed will provide instant gratification for those watching, each transformation being revealed immediately. Participants exit through one door, only to materialize from another, hopefully showing a new and improved version of themselves. Some refer to this as "time travel" format, but it is much more exciting to viewers to see the results instantaneously instead of having to wait a year to find out what happens.
2. It's not just a weight loss program
The hurdles that people try to overcome can be anything, making a career change, losing weight, having a baby, getting reconstructive surgery, being reunited with a family member, and even learning how to walk again. It's not just a weight loss program. If there is something, anything, that someone wants to do that will drastically change the way they live their lives, it's possible to become a participant on the show. No hurdle is too big, the network had stated, for these brave individuals to take control of their lives.
3. Of the 113 people who began making personal journeys, 70 will return to tell their stories.
Not everyone will succeed, so don't be upset when some participants don't. They are all only human and this is real life. Some feel that's going to be one of the most appealing aspects of the show, seeing that some tried and failed. Some will even try again, which is inspirational to us all. Who among hasn't failed at one time or another? Those who do succeed will be asked to talk about how they accomplished their goal. Deeley feels that the fact that these people have to pledge their declaration of change in front of an audience makes them more apt to stick to it, even when it gets extremely difficult. Being held accountable makes people push a little harder.
4. This show is an exciting new twist on the traditional makeover show.
Deeley believes that after just a few shows, the audience will be transfixed by the two doors. One is this time and the other is next year. She even compares it to Back to the Future, just without the flux capacitor! It really feels as if the participants have time traveled. They exit via one door and enter via the other as changed individuals. Even those who haven't fully succeeded in their transformation will surely come out changed in some way. Only after they reappear will viewers learn if and how they succeeded.
5. The way the show works is that the participants have to keep a lot of diary cams in order to record their experiences.
The producers check in once or twice a week, making sure the participants are still on the right track, offering guidance and encouragement when needed, and to just keep on top of things, generally speaking. The producers are so invested in the show that they've already began working on another season, so there is definitely going to be a season two.