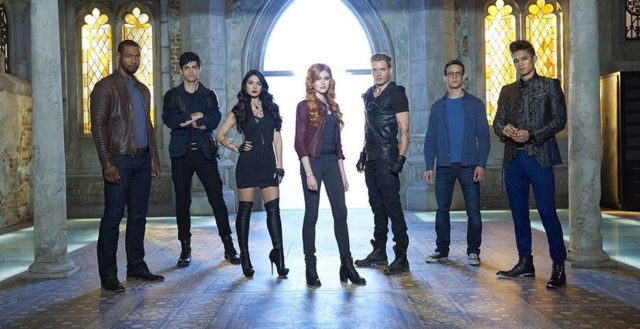 The popular ABC Family's television series "Shadowhunters" is in its third season and fans are loving it. The American fantasy is inspired by "The Mortal Instruments" by Cassandra Clare. The plot centers around Clary Fray, a recently enrolled student at the Brooklyn Academy of Arts. When she turns 18, Fray discovers that she isn't who she thought she was. She was born with a purpose. As a Shadowhunter, she is both human and angel and her task is to defend humanity from demons. She is surrounded by beings from another realm including werewolves, vampires, faeries and warlocks, as she joins forces with her Shadowhunter friends to fulfill their duties. Clary is on a mission of self-discovery as she learns about her past and what may happen in the future.
Here are five things that you didn't know about the show "Shadowhunters."
1. Emeraude Toubia wants to be a Disney Princess
The actress playing the part of Isabelle Lightwood was a model prior to accepting the role. She has won multiple beauty pageant contests in her home state of Texas. She began entering beauty contests as a teen and transitioned to modeling and most recently to acting. She is excited about the role but the part she would most love to play is princess Jasmine in Aladdin.
2. Cast includes a football player turned actor
Isaiah Mustafa is cast as a Werewolf. We've seen him on a few "Old Spice" commercials and the few roles that he has played including "Madea's Big Happy Family" and "Horrible Bosses." Mustafa is also a former NFL practice squad wide receiver.
3. Alberto Rosende is a new actor switching from the crime genre
Alberto Rosende formerly Carlos in "Blue Bloods" transitioned from crime to fantasy to play the part of Simon Lewis, Clary's best friend and fellow student. He's still fairly new to acting but is building a following through his popularity on the series.
4. Two actors will have permanent reminders of the series
Katherine McNamara who plays Clary ended season one of the series by getting a permanent tattoo. She was joined by Dominic Sherwood in the gesture,who plays Jace. They both share the permanent images of the angelic rune. This will serve as a reminder of the characters that they became for the duration of their lives. This is dedication to the series. Dominic is an alum of "Vampire Academy" in a similar vein making his new role a good move for him to make.
5. "Shadowhunters" will return for a third season but expect something special beforehand
The good news for "Shadowhunters" fans is that the announcement has made the third season official. The crew is in Toronto for completion of season two, but there's more. The rumor is that we can look forward to a mid-season finale. There is always excitement involved in this special type of episode. We don't want to give you a spoiler, just watch for something to go down at the New York Institute. We know that we're going to see a new Shadowhunter and perhaps a visit from royalty.